We in the fortunate First World eat 1,095 meals per year. We eat half our meals from restaurants, including fast-food chains — at sky-high expense to our health and our finances. 
This post (a long one) is passionate encouragement on cooking and eating most of our meals from our own kitchens. Home-cooked meals make us richer in what matters: health and vitality, community, and loving relationships, since shared meals are central to sociability. See Top Ten Tips For Hosting People for encouragement on being a host. Let's remember that in times of disaster or even normal economic hardship, restaurant meals aren't an option. Knowing how to feed ourselves is arguably the very best life-skill we can have.
I enjoy restaurant meals as much as anyone, but this fact helps me cook consistently: over 90% of we in the U.S. will die of lifestyle-related diseases like heart disease, cancer and diabetes. Thousands of fatty, salty, too-rich restaurant meals over the years are a prime cause of those fatal diseases. Lack of exercise, also known as Sitting Disease, is the other main cause. Here are tips on curing Sitting Disease by building activity into our lives. 
Dinner Menus
Homemade soup is easy to make with an immersion blender. It's a slender, lightweight wand that creates a velvety-smooth soup texture in seconds, no matter what ingredients you started with.  Here's my savory pinto bean soup method.  Homemade soup is a great way to use leftover grains, meats, lentils, potatoes, sauces, and especially vegetables that are aging, and wouldn't be appetizing on their own. You can combine one or more soups into a new soup, and you can use canned soup as a base from which to build a bigger, better soup.
Whole-wheat pasta with pesto is my favorite work-night dinner. Quick and delicious. Savory olives are a good meat substitute.
Curried dahl over rice, couscous or quinoa was the base of my cheapest, tastiest, healthiest dinner blog post of 2009. Cabbage salad was the side-dish.
A slow-cooker, also known as a crock-pot, is the best friend of many cooks. This is especially good for coming home from work to a good-smelling dinner that's already made, and for making tough, thrifty cuts of meat more moist and tender.
Enchilada casserole can be vegetarian, or it can utilize whatever meat you have on hand, if you chop it.
Use meat as an accent rather than a main course, for both economy and health reasons. Make stir-fry with a little chicken, spaghetti sauce with a few meatballs, a taco or burrito bar with a small bowl of meat alongside bowls of beans, rice, and grilled onions and peppers.
Lunch Menus
Try a protein, high-fiber salad of fresh or canned corn, black or kidney beans and chopped walnuts. I toss this with olive oil, salt and pepper, and eat it with greens or fruit. It's a great go-to if you are feeding a vegan friend or relative, and it lasts a long time without spoiling.
Curried tuna salad is a lunch dish that's good enough to also be a potluck contribution.
Leftovers are my favorite lunches. I prefer them to sandwiches because they're already made. Make your leftovers attractive and easy to use. Label with names and dates: "Stir-fry, Jan. 19". When I do eat in a restaurant, I often assume I am taking half of my meal home. I ask my server for my take-out box at the same time that I order my meal. When I receive them both, I put half the meal in the box, before I start to eat the other half. That way I have lunch ready for the next day, and I don't overeat and leave the restaurant feeling sluggish and half-witted as a cavewoman after a big kill.
Going on a road trip? My work (which I love) takes me on a couple dozen road trips per year. I manage to eat only one restaurant meal per day by bringing food like this for lunches and breakfasts. (And if you want to take the most wildishly beautiful, reasonably priced road trip in the continental U.S., go to Oregon's South Coast. Great for bike touring, too. But I digress :)).
Smoothies are nutritious and a great way to use aging fruit, especially bananas. Frozen bananas are ideal, because they create frosty, creamy texture.  You don't need a recipe to make a delicious smoothie. You just need 1.) a blender; 2.) liquid, i.e.  juice, milk, soy milk, (or any combination of those), and 3.) fruit.  Use some ice if you don't have frozen bananas.
I make breakfast burritos by sauteing whatever vegetables are on hand (onions and black olives are typical), scrambling eggs into them, and bundling into a whole-wheat tortilla.
Oatmeal with raisins is my husband's favorite breakfast — incredibly cheap and healthy. My friend Jen makes homemade granola — a great improvement over too-sweet, oily, overpriced commercial granola.
Snacktime
Homemade popcorn is the cheapest, healthiest snack, hands down. It's best made in an air popper. Drizzling olive oil over our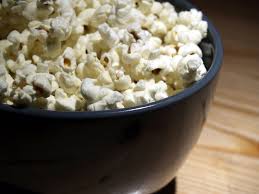 popcorn is healthier and less messy than melted butter. Buy it from the bulk section, or at the least, avoid those packets of microwave popcorn that are full of toxic chemicals. Sprinkling brewer's yeast over popcorn is tasty and nutritious. Replacing a potato chip habit with popcorn would save about$200/year, and at least three pounds of body weight, by my in-the-air calculations.
Grocery Shopping Tips
Go shopping after eating a healthy meal. It sets you up for buying both the right types and the right amounts of foods.
Shop the bulk-foods section, if your grocery store has one. Beans, lentils, brown rice and lesser-known grains like millet and barley are the thriftiest possible foundations of a meal. Peanut butter, almond butter, sugar, salt, spices and also lots of snack foods can be bought in bulk, too, at great savings over the packaged versions.  
Buy only foods you will eat, and will be glad you ate. Cookies and ice cream fill the first condition but not the second condition in my household. So we don't buy them. Celery fills the second condition but not the first condition. So we don't buy it. 
Consider a household ban on bottled water. It's expensive and I've read research stating it's no more pure than what comes out of many cities' faucets. Plus, plastic water bottles are a disaster for the environment. Only a small percentage ever get recycled, and they're made from petroleum. I use a small bottle with a big green screw-top (it originally held orange juice) for water on my road trips. 

What are your favorite meals or snacks to make at home? What makes it fun for you, rather than a chore?
Receive future posts on how to be rich in what matters:
I will never share or sell your email address.
photos courtesy of: Walter Lim, Wikimedia and Steven Vance.