Remember the guys we dated, or wanted to date, when we were young? There was a fast, delicious air about them. I see now that in fact, these sexy guys, no, I'll say faux-sexy guys – were like fast food.
You know what I'm talking about. Fun, but not deeply sustaining. The thrills were fast yet shallow. Here today, gone tomorrow. They could be costly to your heart in the long run. Remind you of any cheap hamburgers from the place with the golden arches? 
The guy who's good to marry, though, is like my homemade pinto bean soup. Lots of heart, soul and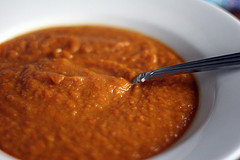 staying power, if you're willing to look beyond the low-key presentation. It turns out that I'm posting this on Super Bowl Sunday. I'm not a spectator sports gal, but I do know that making and eating chili is part of today's ritual. (My soup can fill the bill. Be sure to freeze the leftovers.)
Cheap, Tasty, Healthy Dinner Menu
Pinto Bean Soup  (see recipe below)
Sliced tomatoes with olive oil, cracked pepper and salt
Crusty bread with butter
Fresh fruit for dessert
Alison's Pinto Bean Soup
Dry pinto beans (black or other beans also work fine)
Enchilada sauce or broth
Onion, diced
Your favorite seasonings (mine are garlic salt, red cayenne pepper and cumin)
Sour cream or grated cheese
Soak the beans overnight, or for a few hours (soaking is ideal but not mandatory; it saves cooking energy). Drain the water (I'm told the soaking removes the stuff that gives us gas). In a big pot (size matters) combine your beans, enchilada sauce or broth, plus water — there should be about three times more liquid than beans. Bring to full boil, then simmer for quite awhile, til beans are tender. Add seasonings and diced onion. Puree most but not all your soup with an immersion blender, which is the reason that the size of your pot matters (why did you think). Hold the pot-lid over this activity to minimize air-borne soup. Serve hot with a dollop of sour cream or grated cheese.
Note: the wand-like immersion blender is an inexpensive miracle-worker if you like good soup. Soooo much handier than the big, bulky blenders that are bears to clean.
Let me tell you how I've improved my road trips (no, it doesn't involve meeting sexy guys, but it's fun anyway). My work for the state of Oregon takes me on overnight trips into rural areas and wonderful small towns. I get reimbursed for meals at a flat per diem rate, regardless of where or what I eat. I used to eat at restaurants, since it was all being reimbursed. Then I realized that what I was eating in restaurants was far richer food than I'd ever eat at home. Not only was the restaurant food fattening, it was expensive. If I brought my own food on my road trips, my diet would be healthier, and I'd also gain a little income (the per diem is issued regardless of eating habits).
So, now I pack a container of my frozen pinto bean soup into a cheery, insulated food bag for my road trips. I also bring cooked quinoa (which I like better than rice), fresh peppers that I eat like apples, and a real spoon and cobalt blue bowl I love. I stay in rooms with a microwave and a mini-refrigerator, and I eat homemade meals in my beloved small Oregon towns, typically gazing at a beautiful river or harbor. Often after going running along said river or harbor. What a deep rush, for both my body and soul.
Other easy homemade dishes  include my lifelong favorite enchilada casserole, and curried tuna salad, which is well suited to warm weather. My cheapest, tastiest, healthiest dinner menu has been viewed many thousands of times since I posted it in 2009, which suggests that it's working for some households besides mine. 
Beans and legumes (and their complementary best friends, the grains) are not like the fast, flashy guys known to catch our eyes. But they're like the guys that bring us long-term joy. Beans give to us. They are incredibly inexpensive, so they give to our bank accounts, and they're brimming with fiber and nutrients, which give to our bodies. We do have to bring the pep and zing, i.e. the seasonings, to the table. But in return, beans then fill our table.
Diamond-Cut Life is about being for good things, not shrilling against bad things. I'm not saying we need to forswear fast food or never again pass under the golden arches. I do eat fast food in a pinch, and am grateful to get my hunger fixed in a hurry. But my body doesn't hum with happiness afterward, the way it does with my homemade pinto bean soup. Or with my wonderful husband. 

Related Posts: