I'm the cook tomorrow night, for our group of six friends sharing a cabin on Mount Hood. I'm making enchilada casserole,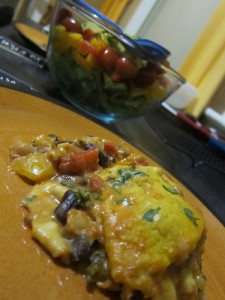 which I like so much I've got to share the recipe so you can use it for your own community meal. It's thrifty and delicious. I've been making this ever since seventh grade, when Libby and I took Cooking together from Mrs. Stolz at East Whittier Intermediate. This home ec teacher loved precision, and would be horrified by the fact I delineate no measurements below. I use my intuition, and I hope that can work for you, too.
Not that I carry any grudge, but Mrs. Stolz actually dinged Libby's and my kitchen-group from an A to a B on this project because we drank a toast with our plastic water glasses. Silliness, she said. Poor Mrs. Stolz clearly did not understand the festive or creative nature of community meals.
Enchilada Casserole
Ingredients
Tortillas  (I prefer corn, but flour tortillas also work)
Cheese  (Many types work, inc. soy cheese, but cheddar gives the most appetizing color)
Onion, diced (other diced vegetables like peppers are also fine)
Black olives, sliced
Enchilada sauce
Beans (pinto, black or refried. I cook them from scratch when I have time, and use canned if I don't)
Optional: Ground or shredded meat, or (my preference) fake meat. The soy-based taco filling from Fantastik that comes in a purple box is great, as is soyrizo.
Method
Cook or otherwise prepare your beans, meat or fake meat and combine them with the onions, olives, and a goodly amount of enchilada sauce. It should look like a thick soup. Set your oven to 400 degrees.
Grate or slice your cheese.
Rub a good-sized casserole dish with butter or oil. Put a tortilla or two on the bottom, add about a third of the enchilada mixture, then add a nice layer of cheese, distributing evenly to the edges. Repeat this layering process til you use up the enchilada mixture.  It helps to tear the tortillas into jigsaw pieces to get the right coverage across the dish.
Bake covered at 400 for about 50 minutes. Let it cool awhile before serving. A fluffy green salad goes well with enchilada casserole. Little side dishes of sour cream and chopped green onion add freshness, color and more flavor.
And . . .  drink a toast when you sit down to your enchilada casserole. Mrs. Stolz picked a winner when she taught twelve-year-old Libby and me to make this, even if she didn't quite get the festive, creative nature of community.
photo courtesy of wonderyort