The winner of a signed hardback copy of "David and Goliath" is Jacqueline Nichols of Lake Oswego, Oregon. Congratulations, Jacqueline.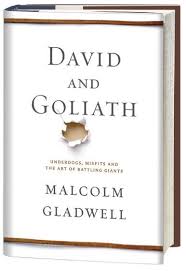 Malcolm Gladwell's latest bestselling book gives us specific reasons and examples of how underdogs and good causes win. Like all of Gladwell's books starting with "The Tipping Point", this is a pageturner full of stories and surprising truths. I always come away from a Gladwell book feeling richer in what matters, and inspired that I can make a difference.. Here are ways that all of us can build our capacity to make a difference.
I'm suspending the book giveaway program this summer as I redesign the Diamond-Cut Life website. To receive notices,  I invite you to subscribe to this blog by email below. Be sure to click the verification email you'll immediately receive. I will never sell or share your email address. Easy to  unsubscribe with a click any time.
_________________________________________________
Past Diamond-Cut book giveaways:
On March 30, 2014, Christin D. of Marina, California, won "The World Until Yesterday" by Jared Diamond. This book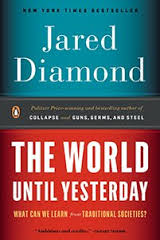 answers the question: What can we learn from traditional societies? Its author is deeply knowledgeable about both modern societies and traditional ones. He sees the problems and advantages of each, and encourages us to make conscious choices on how we want to craft our own lives. I see those clear-eyed choices on how we want to live as being the crux of a diamond-cut life, the key way we become rich in what matters.
On January 31st, Carla R. of Portland, Oregon, won The Beauty Experiment, by Phoebe Baker Hyde. Ms. Hyde presents herself, in this hilariously
detailed memoir, as an appearance-obsessed  woman who decides things have got to change.
Ms. Hyde spends a year without any beauty products, styled hair or new clothes, and virtually no jewelry. The year is challenging, but life-giving. Ms. Hyde eventually gets grounded in the fact that she is beautiful intrinsically —wrinkles, worry-lines and all. She becomes richer in what matters, including peace of mind, self-acceptance, and more hours of sleep per night (especially valuable for mothers of young children). In the years that follow her beauty experiment, she stays much closer to simplicity than to the former obsession with makeup, jewelry, hair and designer clothes that had been so costly.
Ongoing giveaway: Revelle, by Alison Wiley (that's me). This is a novel about a spirited thirtysomething woman who's an aspiring dancer and mother. She suffers constant setbacks, perseveres anyway, is rich in  regardless. 21 Amazon ratings have averaged 4.2 stars out of five. Just sayin'.  Sample reviews and the first two chapters of Revelle are here.
---
I will never share or sell your email address.
I Am Malala by Malala Yousafzai and Christina Lamb. The winner of " I Am Malala" was Kathy M. of Savannah, Georgia.
Wild: From Lost To Found On The Pacific Crest Trail by Cheryl Strayed. The winner of "Wild"  was Allison H. of Dallas, Oregon.
Do you know of an excellent book that speaks in some way of being rich in what matters? I'm open to suggestions for 2014 giveaways.