If you're sitting reading this you probably have, like me, some degree of Sitting Disease (SD). The bad news is that it lowers our resiliency and our quality of life, and costs our nation billions per year in extra medical costs.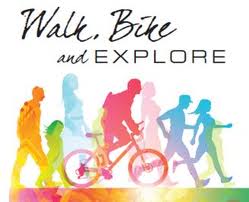 But the good news is that Sitting Disease has lots of cures, immediate ones. Many of them cost little or nothing, like many things that create high quality of life.  (Remember, Diamond-Cut Life is about growing our joy, no matter our income level.)
I'm writing this at Bipartisan Café in Southeast Portland's Montavilla neighborhood. My bicycle that I used to get here is parked in a bike corral that replaced a car space. The bike corral is already half-full at 7:15 in the morning. Bicycling the 1.5 miles here was ten times more fun than using the car, and was another small victory in my battle against Sitting Disease.
For almost all of human history, there was no Sitting Disease. Sitting Disease comes from our human inventions, especially the car, television and computer. Specifically,  it comes from our choosing those things at the expense of being physically active.
Curing our Sitting Disease by being physically active doesn't mean we become hardbodied athletes who play sports. It just means using our bodies, which means we actually become more self-sufficient. Our current culture has invented activity out of our lives.   Inventing activity back into our lives builds our capacity to deal with climate change and other disruptions like extreme weather. See my review of Sharon Asyck's book "Making Home" for more about thriving on our planet's diminishing resource base.  
Here are some cures for Sitting Disease. I'd also love to hear from you about more cures.
Walk, rather than drive, to things within walking distance. Use this Walkscore site to find good walking destinations from your home, work or school address.
Use transit instead of driving, if possible. Studies show that transit users take 30% more walking an people using cars.
Use stairs instead of elevators or escalators. I do this whenever I'm in the Portland airport. It always surprises me that my husband is the only other person using the stairs. If I have to use an escalator, I climb it.
Get a pedometer and wear it to count, and then increase, the steps you take each day. They're low-cost, often free from Kaiser, and are quite motivating. (I personally multiply any uphill steps by two in my counting).
Make short trips by bicycle. If you haven't ridden in awhile, start very small. Dust off your bicycle, oil its chain and gears, take it just down the block and back. Work up to errands, and then try a commute-trip. You'll love the way bicycling makes you feel: deeply alive and alert.
Use a push-mower instead of a motorized lawn-mower. This doesn't just give you a workout, it also reduces the air pollution you and your neighbors are breathing. It reduces noise pollution too, making your neighborhood a more inviting place for walkers, bicyclists and the kind of neighborly-style visiting that builds community.
Walk the dog, or your child. Don't just watch the dog or child walk.
Put your television on a diet.   Use the time this frees up to clean or organize a part of your house, or to garden or do yardwork. The results of your project will make you feel good. And anything that uses your body is a cure for Sitting Disease.
I work in transportation (rural transit), and I attended Oregon's excellent Active Transportation Summit (OATS) in Salem this past week. I got the below information from a presentation by Angela Camilleri and Dr. Thomas Syltebo, both of Kaiser Permanente.
Physically active people have 27% lower medical costs than inactive people. ,
The medical cost of inactivity is second only to the medical cost of tobacco – and inactivity is drawing even with tobacco.
Our overall health status is determined 40% by our personal choices and behaviors, including how physically active we are. Only 10% of our health status is determined by the medical care we receive. (As with all statistics, the data doesn't apply to individual people, but to large groups of people.)
What is your own favorite way to overcome Sitting Disease and be physically active? Comments here.