Are you wondering where to vacation this summer without fighting vast crowds of people, or spending an arm and a leg? I think you'd love the South Coast of Oregon. I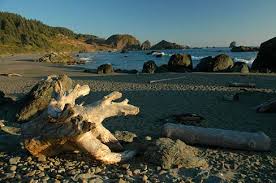 recently spent one of the happiest weeks of my life there, and I'm smitten. Moonstruck. Head over heels. Like any person in love, I've got to rave about the object of my affections. But unlike most people who've gone over the falls, I've got no jealousy, and nothing to lose if you fall in love, too.

FYI, I receive no money from this blog, or from any of the places that I'll mention in this post. My only agendas are to share my love of small towns and nature, to help bridge the urban-rural divide, and to suggest what I've been suggesting here at Diamond-Cut Life since 2007, i.e. that joy flows from the things in life that are better than material possessions.
Let's start in Coos Bay. The downtown is lively and walkable, like any good downtown, and I recommend Time Bomb for great secondhand clothes. A little-known fact is that Coos Bay has public transit. The Coos County Area Transit buses run bankers hours Monday through Friday, and take you to lovely places like the community college and the fishing town of Charleston. Driving-wise, the Cape Arago Highway beach loop brings you to pristine beaches and the largest haulout of seals and sea lions in Oregon.
Face Rock Creamery is in Bandon, south of Coos Bay. This sun-drenched, spanking-new establishment is a cafe, cheese factory, wine and beer bar, gourmet gift shop, and purveyor of  Umpqua ice cream cones. With the hours of 10-8, excellent wifi, and spacious restrooms, I'm starting to make this my South Coast work headquarters. The employees are so friendly, they recognized and greeted me the second time I came in. When I ordered a single child-sized scoop of chocolate chip mint ice cream, the cheerful woman gave me three scoops. When I protested, she said, "We have a history of generosity here." I decided that my own history of abusing ice cream might not be relevant here, and happily ate my three scoops.
Nehomah Memorial   As you walk, bike or drive south from Bandon's Old Town, find this tribute to the South Coast's earliest, longest-term human inhabitants on your left, across from the old Coast Guard building. It has a big piece of Grandmother Rock and the most heartful, poetic storytelling I have ever seen in a public space. My pal Jack Lenox, a soft-spoken, dynamic member of the Coquille Indian Tribe, made this memorial happen. The Nehomah are a branch of the Coquille, he informs me. The tribe is pronounced ko-quell, in the way of the French, while the town and river are pronounced ko-keel, the Americanized version. In Oregon, you travel to the coast, rather than the beach, as you would term it in California. And Oregon is OR-uh-gun, not or-uh-GAWN. You'll surely impress people knowing these things.
Bandon Beach When I hike and run on this sweeping beach south of town, the great rock formations rising dramatically from the sand make I feel I'm in a magical kingdom. I always stay in Bandon's Old Town district at the Sea Star Guesthouse, in room 2, so that I can watch the harbor. One June evening about 8:30, before dusk, I strolled to the dock and had the pleasure of learning from three local women how they catch crabs. For coffee, breakfast or lunch I suggest the Bandon Coffee Cafe.  I chatted there with two bearded young bicyclists who were travelling Highway 101. They'd camped at Bullard Beach State Park, and planned to bike all the way to the Mexican border. Bicycle tourism and great bird-watching bring many people to vacation in Oregon, and both day-hikers and backpackers enjoy the Oregon Coast Trail.
Before we travel farther south, let's talk about what to read on your South Coast trip.  I feel every vacation needs a riveting read, ideally one that relates to the place we're visiting. For non-fiction fans, I recommend 1491: New Revelations of the Americas Before Columbus.  Jack Lenox, mentioned earlier, turned me on to this book that sheds a surprising light on Native American life in the New World (including Oregon) before Europeans arrived. If you prefer fiction, my novel Revelle takes place in Oregon, and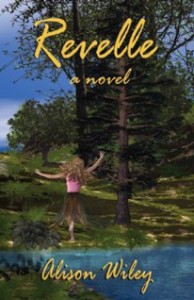 carries its spirit of wildishness and freedom. See here for more good books, organized by category.
Speaking of books, going south from Bandon on 101, I recommend stopping at Gold Beach Books, which is also a coffeehouse and art gallery.  When I walked in the door, I felt like I was in one of Portland's bookstores, there was so much energy and so many books. Note to self: the size of a town never predicts the excellence of its establishments.
To get to Brookings, you'll go over the Thomas Creek Bridge, the highest bridge in Oregon (which has many rivers and therefore many high bridges).  In Brookings, I recommend the Art Alley Grill, below the art gallery on Highway 101. I ate dinner with some transit colleagues at this elegant, intimate place, and it sent me to the moon. Superfly is another good eatery: colorful, informal and hip with the kids. I bought my Father's Day card and gift at the delightful Wild Bird & Backyard General Store, where the owner was unusually friendly and helpful, like many people I meet on the South Coast. I love to prowl the beaches after dinner, since it doesn't get dark til 9 in the summer at this latitude. Harris Beach was wonderful enough on my first evening, but then my colleague Joanne told me in a confidential tone that Lone Ranch Beach is where the locals go. She took me, and nobody was there at all except her and I, in a rugged, heartrendingly beautiful place that felt like a secret she had tenderly shared with me.
Getting to and from the South Coast is a lyrical experience, itself. You'll likely be coming from the I-5 corridor. Stop in at Alpha Bit, the café and books/gifts store in Mapleton on Highway 38, between Eugene and the coastal town of Florence. This is the wonderfully personable place of I.O.U. fame and lore. (On their suggestion, I mailed them a check for my purchases after I got home, since I didn't have cash on hand and they don't take plastic. Trust still lives in small towns.)
I know I'm going on and on here. You might be thinking, "Oh, this is just Alison. She loves everything. Other people wouldn't feel the same." But that's not true. Other people do feel the same, including dignified people who are less gushy than me. Here is one way I know that.
I sent a work email from Brookings to my colleague Frank, a man high up in my organization, a tall man with a commanding presence and a million responsibilities. I started by raving about my sunlit evening on Harris Beach, knowing it was off-topic, maybe even inappropriate, but unable to help myself, like people in love always are. "I love this region," I finally wrote, like a sigh, like a confession. Then I pulled myself together and wrote, "OK, business. Your speaking date in October has been changed to yada yada yada".
Frank replied promptly. "I love it, too!" he wrote, or blurted, like a priest revealing the same weakness as the parishioner in the confessional booth. Then he started a new paragraph, like I'd done, like taking the deep breath that keeps the giddiness at bay. Then he let me know that the new date in October for him to speak works fine for him, and he was open to ideas on what he should say. I refrained from telling him he should read this love letter of mine aloud.  
The body of thought I've been developing for years here at Diamond-Cut Life is that happiness, and maybe also integrity, come from simpler things than spending a lot of money on a lot of stuff. Those good, simple things include our connectedness to nature, and each other, and what some of us call God. I find those things in abundance on the ravishing South Coast of Oregon.