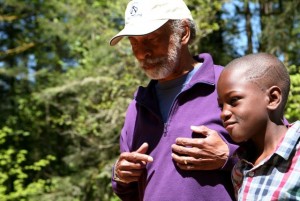 I woke up this past Thursday to the reckless assumption behind Father's Day. The assumption is that a father exists in our lives, a man who raised us in addition to our mothers. The father generally worked for paychecks and provided us with roof, walls and groceries while we messed our diapers, then ate him out of house and home, and finally angled for the car keys so that we could push against the curfews he kept setting.
We reciprocate by taking these fathers to ball games, barbeques or restaurant one Sunday every June. My brothers are doing that today. Or we make mad dashes to the post office to send colorful cards and gifts. I did that on Thursday. This system has appeared to me to work well, because my dad has been appreciative and hasn't complained once.
But maybe, like my husband Thor, your dad died when you were little. Or maybe your dad abandoned you and your mother, so that you grew up without a father. That was the case for Donald Miller, who wrote "To Own A Dragon"
What would it mean to grow up without any father? Until Thursday, I gave little thought to that question, partly because my husband turned out well. But a few hours after my Father's Day dash to the post office, I read these factoids in "To Own A Dragon"*. 
85% of all youths in prison come from fatherless homes (U.S. Dept. of Justice)

71% of all high school dropouts come from fatherless homes (National Principals Association Report)

85% of children who show behavior disorders come from fatherless homes (Center for Disease Control)
Let's look at fathers in the natural world. Let's look at elephants (trust me that I'll loop back around to how this relates to your life, including  if you have no father issues). Young elephants in Africa that were orphaned didn't behave normally. The young males ran amok, spearing rhinos at waterholes with their tusks, and kneeling on their heads to hold them underwater and drown them. Mature male elephants are never observed to do these things. Neither are young males who grow up around mature males. (Sidenote: Paul, the thoughtful, overweight character in my novel Revelle, mentions these wayward elephants. He mentions them in reference to the Sonny Champagne character, who doesn't hold rhinos' heads underwater, but does other aggressive things, when he isn't charming people. Sonny grew up with a father - but a father who was alcoholic).
Donald Miller notes of himself that as a boy without a father, he did terribly in school, disliked authority, and broke into people's houses to steal their jars of change. He states he could easily have turned out to be a criminal, but for the fact that a youth pastor mentored him. The pastor spent time with him, noticed he could write, and guided and encouraged him. The breaking into houses stopped as Don started writing for the church newsletter. Now Donald Miller is a pretty famous writer and speaker and has 77,892 likes on Facebook. (I try to not be jealous of that).
Moreover, Mr. Miller founded The Mentoring Project, which trains men to be mentors and matches them with fatherless boys. But assuming you and I are not fatherless boys, how does any of this relate to you and me?  Here is how: we're likely to be victimized by a man who was fatherless. That's what those statistics are telling us. For example, my neighborhood's recent break-ins that are leading me to host the neighborhood watch meeting that I wrote about last week? Probably perpetrated by one or more fatherless males. And U.S. children growing up without fathers are more common than ever. In Portland Oregon alone, The Mentoring Project has a waiting list of 1,000 boys right now who are waiting for male mentors.
Back to the elephants. It turns out that at a certain adolescent age, male elephants leave their herds and emit a green pus that trickles down the inside of their leg. The odor attracts a mature male elephant who forms a bond with the testosterone-plagued youngster. The older guy and the younger guy hang out together, foraging and testing limits and I guess doing the four-legged equivalent of man-cave activities. All of this results in the young guys learning how to manage their testosterone and not attack rhinos who are just trying to get a drink of water.
But here's the thing. The older elephants aren't even the fathers of the young male elephants. They're simply their mentors. And that's all it takes to turn out an elephant who doesn't commit the wildlife equivalent of break-ins and murderous assaults.
If you've read Diamond-Cut Life for long, you know that we're moving toward a call to action. I'm going to talk with my ministers about inviting someone from The Mentoring Project to come speak to our church, as in a recruitment effort. At Lincoln Street Church, we happen to have a bunch of men who are great fathers.
*"To Own A Dragon" was published in 2006, and the factoids on fatherless youth may be out of date. I'd be surprised, though, if they've improved a lot.
Related Posts: