Jen P, a longtime subscriber to Diamond-Cut Life , has won a 541 Threads t-shirt, made in the U.S.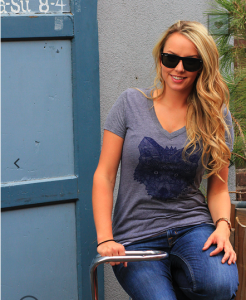 Jen is a warm, vivacious person who is unusually rich in what matters. I know this about her because we both go to the same neighborhood church here in Southeast Portland. She is bilingual and for years has supported Manos Unidas Peru, a nonprofit that prepares children with disabilities for a successful future.
After Jen chooses her t-shirt and DCL pays for it, 541 Threads will donate five meals to food banks that feed hungry people. They've fed more than 36,000 folks to date.
I really love that about them. Giving makes us rich in what matters. So does nature, the arts, community and work we believe in.
You get into the weekly Best Threads drawing by becoming an email subscriber to Diamond-Cut Life. To do that, just leave a comment at the end of this post. You'll give your email address in the process (double-check it since it's our only way to tell you that you've won a Threads t-shirt).  You'll receive weekly posts on how to be rich in what matters. Easy to unsubscribe with a click any time. Nobody will see your email address but us, and we'll never sell or share it.
Coming up on Thursday: a review of the surprising new book "Glimpsing Heaven" by Judy Bachrach.