Two years ago, on January 1st, 2009, my friend Colleen Kaleda and I spontaneously made a shared New Year's resolution to tutor and befriend two African immigrant women (one apiece).
We were clear we wanted to be of more service in our lives, and that we had enough time to do that. We shook hands on the resolution on the spot, in the home of her neighbors who had hosted a New Year's Day brunch (a great community tradition in that neighborhood, incidentally).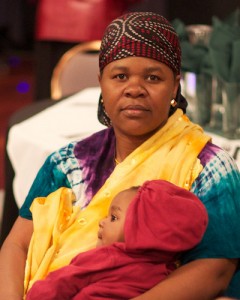 Two years later, we've succeeded and our relationship with "our" African immigrant family is going strong. Isha, from Somalia, is pictured on the right, with her youngest child Muslah, at my community-oriented 50th birthday party.
Here are the elements that helped us succeed:
Colleen and I teamed and supported each other on the resolution. We weren't going it alone in a spirit of hyperindividualism.
We picked a realistic resolution. For example, we had both worked with people from other cultures before, and knew we enjoyed it.
We already knew the resource we would use: an organization called the African Women's Coalition that trained volunteers and paired them with immigrants who wanted tutors/mentors.
We were flexible on the details of how our plan would play out. Rather than each of us working with one woman, it ended up being the best idea for me to tutor, along with my husband, Isha's oldest son, Mahamudi. We give him a monthly bus pass which he uses to come to our house for his reading lessons.
Our spouses were and are supportive of our following though on our resolution — which by now we simply experience as part of our lives.
Many New Year's resolutions, including most of my own over the years, are designed for personal benefit, i.e. resolutions to exercise more, save more money, be more organized, etc. All these are good things, and in fact I've devised a simple system for succeeding at these types of resolutions — or just good, ongoing life-habits — that I'm continuing to use in 2011.
Befriending and working with people less fortunate with myself, though, has taken me to a higher level of happines than things like making sure I exercise three times a week. I need Mahamudi and his family as much as they need me, simply in a different way.
Service is a blessing. So are friends like Colleen who help me do it.
photo courtesy of David Chilstrom