Our communities all have problems that need solutions, whether it's unemployment, broken relationships, or broken bus benches. The people I respect the most are the ones who craft solutions to the problems, especially those who creatively stretch limited resources.
Stephanie Lawson Millar, author of today's guest post, is such a person. Stephanie is a fellow transportation professional who recently moved back to the Portland Oregon area after working her problem-solving magic as a planner in Missoula, Montana.
Mountain Line Transit in Missoula, Montana operates six days a week and gives over 800,000 rides a year. Not much by Portland or Eugene standards, but none the less, it is the largest transit agency in the State of Montana and enjoys the support of the progressive community of Missoula, home to the University of Montana. Mountain Line began operating in 1977 with four used buses on three routes. Since then, they have expanded to twelve routes and have provided over 17 million passenger trips.
Like any transit agency, Mountain Line struggles to make ends meet and provide good service. Maintenance of passenger amenities, such as bus stops, was a neglected area. The Federal Transit Administration (FTA) provided grant money to purchase benches and shelters on a 3 year cycle, but funds for maintenance were never specifically designated. Shelters were cleaned and repaired on an as needed basis, and bus bench backs, originally made of plywood and designed to last only a year or two, simply deteriorated.
Being such a visible, everyday reminder of transit in Missoula, the terrible state of disrepair of the benches had a negative impact on Mountain Line's image and reputation in the community. Graffiti covered, broken benches tend to drive away people who ride the bus by choice rather than by necessity. Bad benches reduce support for transit in general.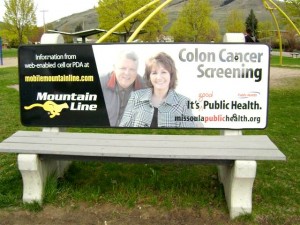 As a the Planner and Development Coordinator for Mountain Line, I wanted to fix this problem. An obvious solution to the lack of revenue was the sale of advertising on the bench backs, but the local sign code prohibited off site advertising on the benches. My strategy was focused on creating a reliable funding stream for maintenance, a regular replacement schedule, and enhancing our image in the community.
Working through the Zoning Code update committee, I helped to shape a new draft sign code which allowed the sale of advertising on benches and shelters. I had the full support of the Mountain Line Board, but City Council and some community members were concerned about visual clutter and obnoxious advertising. "Check Cashing R Us" and Title Loans would do nothing to enhance Mountain Line's image, so I agreed with City Councils concerns. After adoption of the new code, I approached local government agencies and non-profits about community service messaging on Mountain Line benches.
We were flooded with interest and we sold every bench in the inventory to the first two agencies to respond. These agencies had a need for affordable, visible community service messaging for public health issues, senior services and so on, and we needed a fresh face. Together we created a win-win solution to our problems.