"Pause — are they the things on the dog's feet?" Mahamudi asked me last night. We were doing our twice-weekly reading lesson here at my house.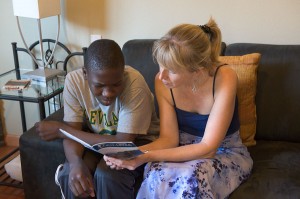 He arrived in the U.S. from Somalia three years ago. Now he is 14, and like his parents, he never learned to read or write in his native language.
"No, those are paws," I explained. "Pause is, ah, when you . . .  stop for a minute."
Mahamudi frowned. "Oh, like on the DVD, when I press  'pause' so I can get a drink."
"YES!" I said excitedly. These little breakthroughs can mean so much to a tutor.
"But these words sound just the same! Paws and pause!" he said, laughing even as he complained about the strangeness of English. His animation is contagious, and I burst out laughing, too. He is so much less predictable, and therefore more entertaining, than TV or movies. Maybe it sounds bad to see a student as part of one's entertainment life. But there you have it: tutoring Mahamudi is entertaining.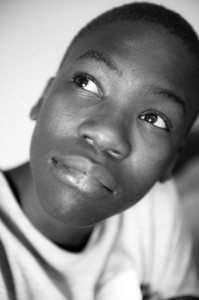 Tutoring is also more important then ever in the summer. Studies show that low-income students learn at the same rate as higher-income students during the school year. But in the summertime, they fall behind — further and further each summer. So, my friend Colleen and I have also been tutoring Mahamudi's younger siblings when we can.
photos courtesy of Hanmi Meyer.
Note: besides being a gifted photographer and website designer, Hanmi is also a good rock singer. She and I and her husband Jim — an amazing musician and singer himself — are practicing music every Monday night for my 50th birthday party/concert coming up in November. I'm totally jazzed.