Being out there in wild nature is a prime way to be rich in what matters. And in my view, the longer the daylight, the better, which is why I love summer solstice.
My friend Colleen and I celebrated the solstice yesterday by climbing Mt. McLoughlin, the highest peak in Southern Oregon. This was a lungs-heaving, gasping-for-oxygen experience for me, in contrast to when we climbed Mt. St. Helens in 2012, or South Sister last year.
New life-lesson: your experience can change, even if the external circumstances haven't changed. The altitude was no higher than in my prior climbs, and the amount I trained was no less. But my body responded dramatically differently to thin air than it did before.
I had to stop again and again to rest and gulp air before climbing some more. Interrupting my breathing for two seconds to drink water or blow my nose made my lungs heave harder than ever. I felt like a crawling accordion that was being played to a breathlessly fast song that I could not hear.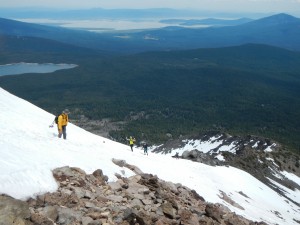 All of that was on the ascent. Half of a  climb, of course, is the descent. On the descent I fortunately dropped my accordion identity and became a normally breathing human being again. Karen and John Poole, the very experienced and gracious people hiking with us, told me that how people respond to altitude can change from day to day, depending on dehydration, stress and other unpredictable factors.
I hadn't known that. There are hundreds of things about interacting with nature that I have yet to learn. I won't learn all of them in this lifetime, but continuing to stay connected to nature will keep on making me richer in what matters.
If I emulate the Pooles and help other people at every opportunity, I will become richer still.
photos courtesy of Karen Poole