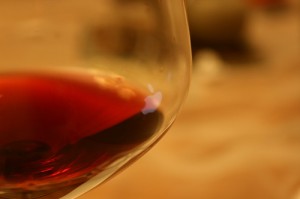 In the Christmas and holiday season, wine flows more than ever. I love festive sociability, and I see it as integral to the diamond-cut life. In fact, we're holding our annual holiday party this Sunday (later update: our party got snowed out twice, so we'll hold it sometime in January).
At the same time, I've been musing on how overspent and financially stressed many Americans are this Christmas. I decided to estimate the cost of a long-time wine habit (that would be my own).
If I've had an average of four glasses of wine per week since age 21 (definitely a conservative estimate), that's almost 6,000 glasses of wine. Figure it's been an average of five dollars per glass (less at home, but more when out). That brings my lifetime wine investment to $30,000. Wow.
I experimented this past week with no wine. It felt great. I felt great. I was mentally sharper, despite the fact I never get drunk or even close to it. The difference was subtle, but I was more alert and attentive in the absence of wine.
More musing: even one-tenth of the $30,000 I've spent on wine in my life would have made a significant difference to, say, a village in Africa, where children routinely die for lack of clean water and food. It's emotionally uncomfortable to equate my luxury-consumption choices with other people's survival . . . .  but emotional discomfort is part of being alive and awake.
I'm going to sit with that discomfort around the implications of my wine consumption, and let it motivate me to drink less in the coming year.
photo courtesy of herbert.feutl

Related Posts: