I was so dollar-poor in my 30′s that I lived illegally for five years in the loft where my landlord thought I was just running my small art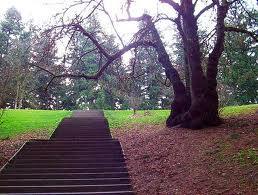 company. I couldn't afford a separate place to live. Even then, I was late with the rent each month.
I feel bad about the dishonesty of that, and I later made amends to the landlord. I tell you about this, though, to make a distinction between being dollar-poor and truly poor. And to illustrate my best investments.
When I was dollar-poor as an artist, I had a connection to God and nature that made me not truly poor at all. Sunshine would stream into my narrow loft through the skylight. I would pray to God in my big round papasan chair, and tears of joy would stream from my eyes, Her love for me was so palpable.
I would run for miles along the Willamette river, and hike and bicycle for hours  in lush, verdant Forest Park, as happy in those moments as people in the expensive homes nearby. Being in nature made me know in my gut I was whole, despite having almost no money.  
Today, I'm not dollar-poor any more. I have a "normal" job I love, supporting rural transit that focuses on seniors and folks with disabilities. My husband and I  own two houses, one we rent and one we live in with a steady stream of visitors and housemates. (And have I mentioned how joyful and simple it can be to practice hospitality?)
In our lifetimes, our income levels will go up and down. We are the same people in any case, with the same intrinsic human worth. We spend lots of money, time and energy trying to insure ourselves from losing our money and possessions. But we can't take any of that with us when we die. Nature and God can endure as bedrock sources of joy and stability no matter what.
A relationship with God — whatever that looks like for you — is a sound investment. For me, it looks like going to my neighborhood church, and praying daily in a special corner of my bedroom. (I track this and my other daily habits like this, similar to how my husband I also track our financial investments).
Several times a week I run, hike or bike through the forest of Mount Tabor park near my house. Joy. Wholeness. Same as when I was dollar-poor. A relationship with nature can make us rich regardless of what our stock investments are doing.
Unlike money and possessions, our personal experiences of God and nature cannot be stolen from us. We can tap into these investments right up to when we say our earthly good-byes.
How do you invest in your relationship with nature? In your relationship with God? How do you find that these kinds of investments pay off over time?

Related Posts: