Most of us would agree that travel makes us richer in what matters. We visit people we love, connect with nature and the larger world, and so forth.
I've traveled at length in the U.S. by car, by plane and by Amtrak train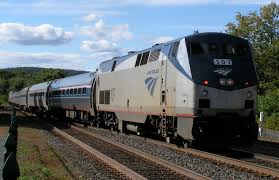 and its helpful cousin, intercity bus. All in all, my Amtrak and intercity bus trips are the source of my richest memories.
Why choose Amtrak or intercity bus over plane or car travel?
You will not have to partially disrobe in front of hundreds of people.
You will not have to surrender your favorite cosmetics or liquids to gain access to the vehicle.
You are helping the planet by burning less fossil fuel.
No extra charges for checked baggage (Amtrak allows two pieces, maximum 50 pounds each).
Better nature-watching.
You will not depreciate your car at those godawful rates that even AAA publicizes. (If you don't have a car, clever you.)
You have much less chance of being maimed, killed or even mildly shaken up by a car crash.
You have a much better chance of meeting interesting people.
See When Cars Are Like Condoms (Or, Why I Love Transit) for further reasons.
Here are my top tips for using Amtrak and intercity bus.
Buy your Amtrak ticket well ahead of time for the best price. Example: I paid just $37 for the 235 mile trip from Klamath Falls Oregon to Salem, Oregon when I bought it nine days ahead of time. But on the day of the trip, when I decided to tack the 50 mile leg from Salem to Portland onto the end of my journey, I had to pay $49 just for the additional 50 miles. Amtrak pricing fluctuates with supply and demand.The high price was because the train was almost sold out that day, the agent explained.
Be open to intercity bus as a supplement to Amtrak. The bus system hugely expands your reach beyond the rail system, letting you take the first or last legs of your trip to and from the places that Amtrak does serve. Amtrak operates many buses, itself, but state governments fund much of intercity transit. If you're lucky enough to travel in Oregon, find Point intercity bus information here. Find a nationwide map of intercity bus systems here. 
Don't assume an Amtrak sleeper car is worth the extra money. My husband and I spent many hundreds of dollars in 2006 on two different long, overnight trips to get a sleeper car. But each time, we slept so badly in our train beds that we had to devote much of the next day to napping in real beds. We fared better overall on our honeymoon, when we traveled by train through the Canadian Rockies in coach seats that we reclined at night.  
Bring the right things on board with you.  Examples:
Healthy meals and snacks (see my bestselling post of 2013, Best And Worst Road Trip Foods).
Pillow and light blanket for napping.
Deck of cards or other games.
Good reading material, taking the following into account.
Low expectations of wifi signals. Not all trains have wifi (the Coast Starlight did not as of two days ago). The Southwest Point intercity bus had wifi, but it didn't work. Books and conversations saw me through quite happily.
Ditch your assigned Amtrak seat immediately to go sit in the observation car, if your train has one. This is usually above the lounge car, which sells beverages and snacks. The panoramic views are beautiful, and you can get a booth with a table (be willing to share the space with fellow passengers).
Relax into the natural scenery. Amtrak or intercity bus may provide the best nature observation you will get all year. I was stunned into a worshipful silence by the mist-shrouded redwood forest I traveled through this past Thursday on the Southwest Point.
Is someone hitting on you? Most passengers are great, in my experience. But if you happen to get unwanted attention, employ one of the following strategies (which can work almost anywhere, not just on public transportation).
Talk with earnest love about your husband, wife, boyfriend or girlfriend. Ask for advice about the next gift you should buy him or her.
But, if your admirer looks conservative, indicate that you are polyamorous or transgender (explain that your normal appearance is a façade that allows you to fit in anywhere).
However, if your admirer looks to be of the freewheeling, noncommittal persuasion, speak of your wish to get married as soon as possible. Pull up my piece on diamond-cut, sustainable marriage, tell them you aspire to having this, and ask about what type of marriage they plan to have.
In all the above conversations, reveal or conceal your left ring finger as appropriate. 
If the suitor is persistent (though I have never seen the above fail to work), you can become increasingly eccentric. For example, you could adopt the persona of a train-loving nutcase, and read aloud the post I wrote in 2010 about my love affair with the commuter train called WES.
You can see that my point in all of this to have fun with your fellow passengers whenever possible. A more typical way to do that would be to play cards with them on a table there in the observation car. 
Finally, this might just be me, but in general I see travel as a luxury, a source of pleasure that most people in the history of the world have not gotten to do. Traveling by planes and individual cars represents a tiny blip in human history, even though we've learned to feel entitled to getting around in those ways. I assume that climate change is changing our world dramatically, within our lifetimes. Shared, public forms of travel like trains and buses that use energy efficiently are more sustainable than planes and cars in the long term.  And they can make us richer in what matters, in my experience.