Call me lovestruck, call me dreamy-eyed. Forgive me if I'm a little gushy today. WES and I have discovered each other.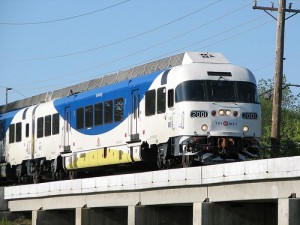 WES takes me to all the best places . . .  from Beaverton all the way  to Wilsonville . . . through lush, green countryside . . . fertile wetlands . . . . . he takes me back to a genteel, civilized past that has friendly, jaunty conductors, clean train platforms and a truly enjoyable commute.
WES embraces me with the comfiest seat I've ever experienced in a train, plane, bus or automobile. How did he know I like to be held just this way? Not too hard, not too soft, plenty of back support, kind of like a good slow-dancer. . . . hmm . . . ah . . . wow . . . . wait, shake myself, stay on topic, Alison.
OK! WES shows up when he tells me he will (I HATE when a guy stands me up; WES doesn't do that to me). He takes me where he promised he'd take me – none of this bait-and-switch, promise-you-Higgins, end-up-at-McDonalds kind of thing you get with some guys. No-no-no, WES is a class act.
WES is a hospitable man. If I arrive early to the train station I can go right in and make myself at home even though he won't be leaving for awhile. He's got wifi, and that just lets my mind spin free – I can work, blog, email, surf, la la la. He lets me plug in my laptop and doesn't even think to charge me for the wifi or electricity (geez, you wouldn't believe some of the guys I've dated).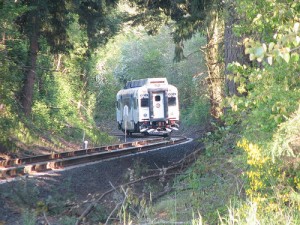 WES is the evolved type, way beyond that jealousy thing. He cheerfully coexists with my husband and my love of walking, bicycling, carpooling and vanpooling. He's generous, and not just to me. For example, a person can get a bike locker from SMART for free. I can also consort with WES's cousin, the 1X bus that runs between Wilsonville and Salem, to complete my commute .
WES understands that a girl might want to shop now and then – he'll let me stop right near Bridgeport Village in Tualatin. OK, so WES doesn't take me to my favorite store, Goodwill. No guy is perfect. But it never did work to take out the clipboard and go down the checklist – I've learned to keep my heart more open than that.
I know what you're thinking. You're thinking that I fall in love all the time, and that this is not going to last. But here is how I know that WES and I can be a long-term thing: commuter rail has the lowest carbon emissions of any mechanized commute-mode. Oh, be still my heart! He is thinking about climate change and our shared future. This is a guy in a million.
Oops, gotta wrap up. I'm at the end of the line in Wilsonville and there is my friend Jen waiting for me on the platform. Jen shares my love of trains and the genteel past. I sprint into her arms and hold her tight, rocking back and forth, crying "Oh, it's been so long, all these days and miles of travel, we've finally bridged the distance . . . ". Jen is cracking up, belly-laughing, saying she should have brought her handkerchief to wave at me from the platform.
Call me besotted, call me love-addled. But I'm in love with WES.
photos courtesy of 844steamtrain
Related Posts: