It takes discipline to be rich in what matters. Physical health, loving relationships, a rich spiritual life, financial health, work we love,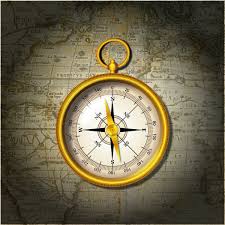 community - these don't happen by default, in my experience. I've become rich in all these ways, but only because I've spent years both charting my course, and then staying the course by tracking my progress, i.e. my habits.
This post supplies a method for charting your course for 2014, and then staying on that course. The staying is the hard part. Last week we looked back at 2013: how did we become richer in what matters? And in what ways did we not? (If you haven't yet read it, I suggest scrolling down and doing so. It will help you identify the course you want).
Being rich in what matters involves making good choices on a daily basis - and weekly, and monthly. Tracking our choices steadily keeps us aware of what we're doing and not doing. We stay focused, and encouraged to see some success, including partial success.
Assume that we'll fail to one degree or another. Stay on the course regardless, like a jazz musician whose riff doesn't work out, and who just keeps right on playing, anyway. (I love the way they do that.) 
Use my own chart below as a general template. Fill the top row with the habits you'll use to become richer in what matters.
Some habits you'll track with a check-mark — either you did it or not.
Some habits are best tracked with time devoted to them, as in, I ran for 40 minutes today.
Other habits happen on a spectrum of how well we do them, like kindness or addressing top priorities  (A for excellent, B for good, etc.).
 Week of Dec 30 - Jan 5

Prayer/

Spirit'l Reading

 Kindness to spouse

 Exercise/ eating habits

Work: did top priorities?

Work on home finances

 New email subscribers to my blog

Mon

      /

 

       /

 

 

 

Tue

      /

 

       /

 

 

 

Wed

      /

 

       /

 

 

 

Thur

     /

 

       /

 

 

 

Fri

      /

 

        /

 

 

 

Sat

      /

 

        /

 

 

 

Sun

       /

 

        /

 

 

 

PLAN

7    /  7

       A

  4 hrs /  B

     A

       2 hrs

 10

ACTUAL

 

 

 

 

 

 
I've printed 52 of these on paper, one for each week of 2014.  As in past years, I'll fill them in by hand daily (it does needs to be daily, I've learned). At the end of each week, I put totals and averages in the "Actual" row.
Be willing to add or subtract habits over time, depending on what is realistic or needed, and on situations beyond our control. For example, if my 90 year old father became deathly ill in 2014, I would take leave from my job to go be with him, and I wouldn't worry about getting new email subscribers to Diamond-Cut Life at all. But I would need my daily prayer discipline more than ever.
Pay attention to what matters most, and devote plenty of energy to it. Not everything is equally important.
I realize electronic record-keeping is possible, and popular. It would be a disaster for me, though, because I'd be immediately distracted, and sidetracked, by email, comments on this blog, and the latest woeful story on the front page of the New York Times.  I suggest tracking your habits on paper, unless you're excellent at ignoring electronic distractions.
We can all become richer in what matters in 2014. It's not money that's the currency of overall richness and happiness. The currency is discipline. Tracking what we're doing supplies that discipline. I'd love to hear about other methods you've used to stay motivated and focused on what matters. Comments welcome, as always.

Related Posts: