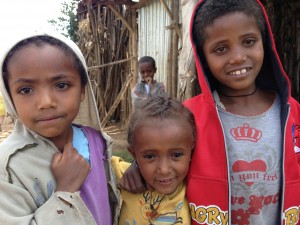 Thor and I are enthusiastic donors to The Community Project: Ethiopia: We believe it will make 4,000 Ethiopian villagers rich in two of the things that matter most: education and community. This is a guest post by our friend Colleen Kaleda, its volunteer cofounder.
If you're like me — already reading Diamond-Cut Life — you know its author helps us expand what really makes us rich.  Whether it's work we love, physical vitality, connection to nature, loving relationships, or conserving precious resources, Alison gives encouragement and real-life examples.
I find that while some meaning-rich activities are simple and easy, others present challenge. One has changed my life dramatically.
I'm here to write about inviting challenge into your life: choosing to do something big, for something you believe in.  For me, venturing out of my comfort zone – and staying there – fully connects me to what matters.
But I'll be honest: the decision to take on my Big Challenge has been both the best and most stress-inducing of my life.
What, exactly, am I doing? Two years ago I co-founded a small international non-profit, The Community Project: Ethiopia. Our grassroots project is building a K-8 school for 1,000 kids in the high-altitude Amhara region of central Ethiopia. When the school is complete, on the same site, we'll build a large community center and garden.  The entire project will serve about 4,000 Ethiopian folks.
I realize that in taking on this 100% unpaid work, I've made a complete departure from the mainstream model of  success. So be it!
Indeed, reducing poverty, increasing health and education, while cultivating a greater sense of community — it's a big dream. While all of it is exciting, hope-inspiring stuff, the truth of the matter is that big dreams are big-time work.
After two years and thousands of volunteer hours, we've raised part of the funds needed to complete the first phase of the project: the school. My co-founder and I share a passion for alleviating poverty with long-term, cooperative projects that will become self-sustaining over time. She and I co-direct The Community Project: Ethiopia entirely as volunteers.
As we actively seek donations, we're involving the local villagers in the design and planning. Our Ethiopian families will also contribute a small amount of money and their volunteer labor when it comes time to build. By working closely with the  local government, we've been given 10 acres of land for free. The local education department plans to hire and pay the teachers and maintain the structures, creating jobs in the community. The project is a way for all of us – of vastly different cultures, living on opposite sides of the world – to work together so we're all richer in what matters.
Starting something life-changing – for others, for yourself — is hard. But keeping it going is even harder. Rewind nearly three years. Here's what starting and maintaining The Community Project: Ethiopia entailed:
In 2011, I led a volunteer-trip to Ethiopia to build houses. My fellow volunteers and I saw a lot of need in the village.  A neighborhood – of nearly 4,000 people – was being created by a foreign NGO, but people didn't really connect. Their lives, mired in poverty, revolved around making barely enough to feed their families. This meant some kids didn't go to school at all. All of that unmet potential, fueled by lack of education, pulled at our hearts. We asked ourselves: Wouldn't it be great if there was a school here, a community center, and a garden where people could grow their own food?
Everyone could come together, help each other and create positive change, together. And to get started on the right foot, we would build it together, too.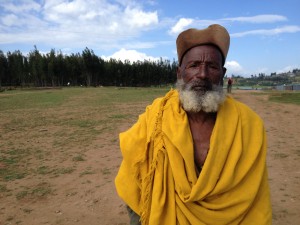 When we shared our idea, the local Ethiopian community leaders and the mayor of the nearby municipality agreed.
With a verbal promise of land by the mayor, we came back to the United States energized, ready to raise money. Big promises had been made to this village; everyone seemed excited to figure out the rest. But enthusiasm stalled once the group disbanded and returned to normal life in the USA. Had the vision and passion we'd shared become a victim of "out of sight, out of mind"?
I'll be blunt: yes, it had.
After six months, I couldn't stand the inertia any longer.  Neither could one other volunteer. With little more than our passion, she and I co-founded The Community Project: Ethiopia, boldly asking a major international partner to build the three structures in Ethiopia if we could raise the necessary funds. Miraculously, they gave us the green light.
That was mid-2012. Smooth sailing from then on? Not a chance.
Keeping The Community Project: Ethiopia going has been anything but smooth. While the village back in Ethiopia was counting on us, we faced huge challenges in the USA. Everything over the next 18 months was a struggle: working with a tough partner organization, letting go of false promises of large sums of money; starting a grassroots fundraising campaign ourselves; then suddenly being dropped by the international partner that had green-lighted the project.
In the meanwhile, Ethiopian leaders on the other side of the world, who hadn't given up on our shared dream for their village, were making plans for their new school.
We'd raised significant funds. But with no partner, we felt hopeless. Still, we couldn't give up.
Finally, in spring of 2013, we successfully knitted together a new partnership. Engineers Without Borders, a volunteer organization, committed to build our project and to stay connected to our Ethiopian community for five years.  Right now we're gathering project donations via a special fundraising campaign through EWB (it runs through January 15) for construction materials.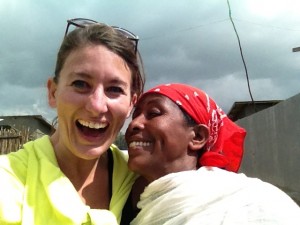 Three years after I climbed out onto this limb, things are finally getting easier, more rewarding, more fun. Next week, I'll meet with Architects Without Borders Oregon to sketch out preliminary site-layout ideas for our 10 acres. Fun.
What keeps me going? Last September, with a core team of EWB engineers, I traveled back to our Ethiopian village for the first time since 2011. When we first arrived, some 200 villagers – young and old — came out to greet us, singing thanks and partnership; clapping, waving flags. A feast had been prepared in our honor. Flowers of thanks were placed in my hands. The project – the dream – came into sharp focus.
When the work gets tough, and it will, again and again, I remember that joyful September day. I remember too the little girl that held my hand for the rest of that afternoon, after all the revelry had subsided, as we walked the village. For her, and for her mother and grandmother, and for the other thousand kids of the village, our passion remains.
---