Normally at this time of year I write about celebrating the holidays in ways that make us rich in what matters. You may be familiar. Best low-cost and no-cost holiday gifts.
How to break the rules at Christmas. Christmas as community, not stuff.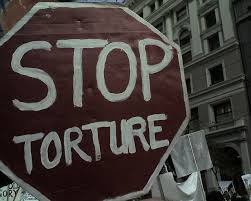 But today — this week — something is looming larger than the holidays, for me, at least.
It's the Senate report, five years in the research and writing, that documents how our country (the C.I.A.)  tortured prisoners in the wake of 9-11.
Extensively. Systematically. For years.
Torture paid for with our taxpayer dollars.
One example of U.S. torture is a form of rape euphemistically termed "rectal feeding" or "rectal hydration". Waterboarding, which is near drowning, is another.
Torture sponsored by the nation to which we pledged allegiance every day back in grade school.
Government-sponsored torture makes a travesty of the notion that humans can be rich in what matters.
Torture is moral bankruptcy.
It's an effort to kill the spirits of others.
Torture is the ultimate I-It relationship (I am a person, but you are an object).
Here is my bottom line:
I don't want to pledge allegiance to a country that tortures.
It doesn't matter that 9-11 frightened us and killed some of us.
As human beings, we always choose how we respond.
I want to pledge allegiance to a country that refuses to torture.
Readers, what did you think and feel when you found out about the Senate's report on the C.I.A.'s use of torture?
photo courtesy of Amnesty International