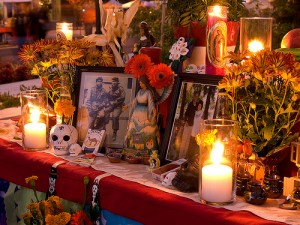 I'm writing on Halloween night, and at 8:30 p.m. on our quiet dead-end street we've gotten exactly one trick-or-treater. He was a tiny boy in a skeleton costume, with two parents hovering lovingly out on the sidewalk. He thanked us profusely for the three quarters we dropped into his sack (money being a better investment than candy, we feel) and twice wished us a Happy Halloween. We returned the sentiment.
The cute tyke probably doesn't know that day after tomorrow, November 2, is Day of the Dead, a Latin American holiday, rooted in indigenous times, that honors loved ones that have died. It follows the Catholic holiday All Saints Day on November 1, which of course follows Halloween. All these holidays have a central theme of the spiritual world, the unseen world, actually being a part of this physical world in which we're walking, and trick or treating, and writing blog posts (and for that matter, hoping for good outcomes in the upcoming election).
I love the warm, mystical glow of this photo (titled Day of the Dead), and I love the way that when we keep a spiritual tradition alive, it makes us more alive. My ancestor with whom I resonate the most is my grandfather John Corbin Wiley, who served as a Congregationalist minister for many decades before he died in 1986. He was a man who made a difference. I've always tried to follow in his footsteps.
On November 13 I will celebrate my 50th birthday in a party with about 60 other people. While my physical life is  more than half over, I have never felt more fully alive. When my physical body dies, I have full faith that my soul will live on. The word 'holiday' was originally two words: 'holy day'.  Halloween and other holidays have become more secular than spiritual, but that doesn't mean that we have to follow suit.
The doorbell just rang! Twice in a row now! My husband Thor is handing out quarters, dispensing hospitality and miniature blessings,  to neighborhood children as I finish my post. The holidays, the holy days, march on. I feel very alive.
photo courtesy of [email protected] Lens

Related Posts: