After being snowed and iced out the last two Sundays in a row, I finally get to go back to church this morning.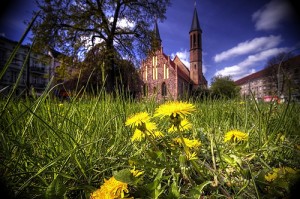 My connection with God is even more important than usual to me right now because my mother-in-law Joan, in her ninth day at Providence hospital, appears to be dying. Her lungs are failing her.
I say 'dying' because the word is plain and clear, but I actually think of Joan as crossing over.  I think her soul is getting ready to leave her physical body behind. Of course it's not pretty to witness, visually speaking, and the sadness among the family as we vigil at her bedside is strong. But unprettiness and sadness are part of what we sign up for with life. God's love is stronger than those things, in my experience.
My last thought before I leave for choir practice prior to church is that illness and physical death in many cases stimulates our sense of community and connectedness. My in-law family, for instance, seems the closest and most united right now that I have ever seen us.
In this culture in particular, we tend to be overly individualistic, but illness and death remind us we are actually interdependent, and closely woven together. I don't see this as merely being a "positive side" of death and crossing over, but rather, a glimpse into the true structure of our lives and and our world.
photo courtesy of gari.baldi

Related Posts: