'Kindness' is the single word I used yesterday in the subject line of the email I sent to my work-group. I had finally returned to the office after the death of my mother to be greeted by hugs, a sympathy card with personal notes from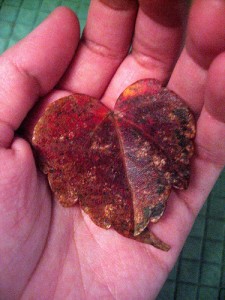 everyone, and a pot of vibrant yellow daffodils. I thanked them in my email for those kindnesses and the way many were asking me in person how I was doing — and then really listening, wanting to hear an honest answer. My coworkers have been holding their hearts open — not a common thing in a workplace.
"I'm grieving, and I'm also working. Both/and," I've been replying. Being asked how I'm doing actually helps me, in a funny way, to work better. It makes me more present, because we're being real.
Losing our parents to death, or loved ones in general, is a universal human experience, which is a prime reason I've been writing about it. In terms of sustainability, none of our physical lives are sustainable, long-term — we will all die. If I had had a raisin get lodged in my nose on the same day my guitar broke all its strings and my husband looked at me cross-eyed, I wouldn't be running those minor mishaps by you. But death, and dealing with it as well as possible, is to me a worthy topic.
Sitting in the very last row of the plane that returned me to Oregon last Tuesday meant I was in three-inch proximity to the flight attendant sitting in her pull-down jump-seat during take-off and landing. Missy was friendly, warm and pretty, with tendrils of lush brown hair escaping her ponytail. Within minutes she learned I was returning from attending my mother's death process, and that I actually felt blessed by the three-week experience. She expressed sympathy. I learned, in turn, that Missy was having a particularly bad day and really hadn't wanted to come on this flight. (She wasn't complaining, just being honest.)
Over the course of takeoff, landing and a chat in mid-flight, I learned that after Missy's parents had died years ago, her older brother, the executor of the will, had managed to extort most of the family estate — without any legal consequences. Again, I didn't hear self-pity, but a reporting of facts. Missy and I talked about loss and grief, and held hands with each other. When we wept, I pulled out my nice, thick handkerchief to share with her (cloth is so much better than kleenex, talk about sustainability). We didn't worry about the men sitting inches away on each side who couldn't help but overhear every word. Public and private space have different definitions on an airplane. The guys would just have to get through this spontaneous, heartfelt conversation that they hadn't asked to witness. It might even do them some good.
Missy learned I'm a person of faith, while she herself is atheist. "I just don't get the spirituality thing," she said. "I've tried, but I just don't. I had all the religious training when I was young. But there's no God for me."
"And I would never try to change you," I said. "The Dalai Lama wrote that it's more important to be kind than to be religious. I can tell that you've stayed kind, despite the pain you went through with your brother's greed. That's a lot. I really respect that. You're there."
Missy's lovely face lit up into joy. "Oh,you really see that? Thank you! I can see the reason now I needed to be on this flight. You've turned my day all around."
Loss and grief have the potential to make us bitter, angry, isolated. I've had some bad moments myself in the last few days. But death and sadness can also crack our hearts wide open.
Songwriter Leonard Cohen wrote that it's the cracks that let the light in.
photo courtesy of jeanieforever

Related Posts: