Staycations in lieu of travel vacations let us have fun while living within our means and not racking up any credit card debt. Plane trips, especially for whole families, quickly run into thousands of dollars, not to mention the way restaurant meals cost double to ten times what you'd spend cooking at home. Plus, any plane trip or long car trip we don't take also saves a lot of carbon emissions.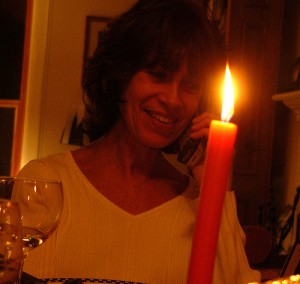 The biggest downside of staycations, to me, is not getting to see faraway loved ones in person. An option we always have, though, is old-fashioned phone visits, the kind where you really settle in and have good, unhurried conversations with friends or family members on the phone. Email communication usually does not build close relationships as well.
Schedule the phone visit as you would an in-person visit. Example: 11 a.m. on Saturday morning when you've finished breakfast, you have nothing else scheduled, and you're unlikely to be interrupted. Or, your Wednesday lunch hour if you feel confident your work won't encroach.
When scheduling, account for your loved one's time-zone (11:00 Pacific time for you equals 2:00 East Coast time for him). Name who is calling who so that you're not calling at the same time getting dumped into each others' voicemails, or both sitting there waiting while nothing happens.
In the days prior to the phone visit, jot down notes of what you'd like to talk about. The anticipation of talking is fun. Examples: how is his new job working out?; the amazing way your strawberries are coming in this year; is Mason playing baseball again this year?; the way your boss praised you at the all-staff meeting; would she please send over that good soup recipe she made that time you last visited?
Consider looking at a photo of the loved one as you're talking with him/her in order to feel closer. You could also look at photos online together and discuss them to catch up on news.
Use a landline rather than a cell phone for the phone visit, if a landline is available and affordable.  Landlines usually give a better-quality connection, letting you hear the nuances in each others' voices better. Sometimes a long-distance friend and I have split the cost of an hour-long phone visit — one of us just calls the other back in the middle of it. The caller uses their cell phone to call the landline of the other, to minimize costs.
Consider walking in a park or strolling in your own garden during your phone visit. For a kinesthetic person (as I happen to be) the physical motion may be the best way for you to concentrate and be fully engaged. Sometimes I pull weeds or pick blueberries, but I don't look at papers or a computer during a phone visit - those things take me mentally away from whoever I'm talking to.
Lively voicemail exchanges can be a great phone-conversation alternative for busy but sociable people. This approach involves no scheduling; you don't have to be free at the same time. My close friend Libby and I, a thousand miles away from each other,  love to leave detailed voicemails in which we first respond to the other's last voicemail ("Yes, I can see how you'd feel that way!" or "Since you asked for advice, here is what I think I'd do in that situation"). Then we give each other updates on our lives. At its best, it's like being on a riff together, the string of energetic voicemails creating a running conversation in which both of us get to express ourselves fully, and also feel listened to.
Consider that the listening, communication and relationship-building skills that we and our children build in high-quality phone conversations are valuable in all parts of our lives, including our work. And looking at the carbon-constrained future of our world, the costs of oil and long-distance travel will only keep going up. Nurturing our long-distance relationships via the telephone is both a loving and smart thing to do.
photos courtesy of ktylerconk

Related Posts: