Guest post by award-winning journalist Colleen Kaleda:
My husband and I recently bought a 96 year old house in a close-in neighborhood of Northeast Portland. If our land could talk — oh what would it say? Perhaps that it wants to shed its excess pavement.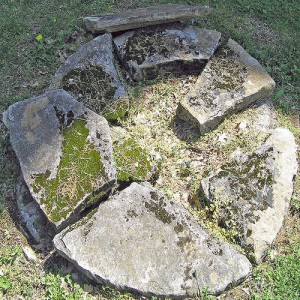 Our sidewalk still has hand-forged steel rings where horses used to be tied. That, we like. Less desirable was the 18 x 20 foot section of concrete in our backyard, evidently a mini-parking lot for the former owners. (The two-car garage wasn't enough?)
A few weeks ago, we ripped out the excess pavement. Neighbors could hear the jackhammer six blocks away. They came over to look, and what they saw was hundreds of pieces of concrete, all broken up. Tons and tons of concrete. People smiled approvingly, this being Portland. I could almost hear the Earth breathing a sigh of relief with each piece we unearthed.
The fate of the broken concrete pieces? Our friends are recycling them into an environmentally-friendly patio and walkway — where the odd-shaped pieces are spaced apart, allowing water to seep into the ground normally. Pound for pound (ton for ton?) this was the biggest recycling project any of us had ever undertaken.
And probably the most impactful The Environmental Protection Agency says: "Compact development and open space preservation can help protect water quality by reducing the amount of paved surfaces and by allowing natural lands to filter rainwater and runoff before it reaches drinking-water supplies. Runoff from developed areas often contains toxic chemicals, phosphorus, and nitrogen"
Removing even a small section of pavement helps the environment. We chose to fill our space with grass. But newly-uncovered earth has endless possibilities: gardens, a small pond that attracts birds, etc. If you are thinking about adding "green" features to your home, I'd encourage you to think first: What might you remove? Sometimes the best addition is demolition.
photo courtesy of Leo Reynolds