I think it's great for kids to adopt creative, alternative identities one autumn night of each year, and come to our house cheerfully begging for treats.
I simply think Halloween needs alternative treats to go with the children's alternative identities.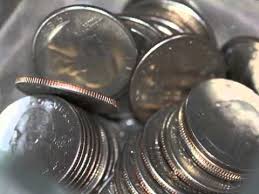 Quarters are where we land. It would be dimes if we had hundreds of children in our neighborhood here on the southeast flank of Mount Tabor. But we're expecting a few dozen trick or treaters. We'll still come out well under the average $22 that Americans households spend on Halloween candy.
The advantages of giving out coins instead of candy at Halloween (fun markers, crayons, stickers, etc. would accomplish similar ends):
No leftover candy that we ourselves end up eating (we are already, ahem, well-fed)
No added generation of candy wrapper trash-waste (to my knowledge, none of it's recyclable)
 No added contributions to the sugar-induced hyperactivity of American children in the early days of November
I was intrigued to learn from Parenting magazine that there are evidently some dentists in New Hampshire, New Jersey and Iowa that are paying children $1 for every pound of uneaten candy they bring in. I call that creative.
Please let me clarify that Diamond-Cut Life isn't about not consuming. We and all species must consume to live, and it's joyful to eat, go places, and enjoy goods and wonderful experiences. Diamond-Cut Life is about consuming mindfully, making clear-eyed choices based on our values, rather than blindly following the crowd. My experience is that there's a lot of joy in that.
Related Posts: