This is a guest post from a DCL reader whose name is being withheld by request. A fellow Oregonian, she sent this piece to me after reading my recent post on Bright Shiny Objects (about elitist fundraising for affordable housing). I love her understated vulnerability, and that her final sentence has more than one meaning.
They say lice don't discriminate, that they infest homes without care to socioeconomic status. But I am suspicious.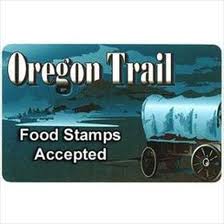 It doesn't seem like an accident that lice infested my family's scalps just three months from the time we qualified for food stamps, just one month from getting our DHS letter that we were drawn in the state health plan "lottery", and the exact same month my husband applied for unemployment benefits.
It is a blow to have landed in this place of need. My husband and I both have college degrees and have held jobs all our adult lives. And lice have never before been a part of our normal, healthy, mostly happy, middle-class lives.
So how, I wonder, did the lice attach their six legged crawling little bodies to our scalps? I suppose they could have arrived on the "Oregon Trail" food stamp card and wiggled their way up to my scalp as I held the card close to my face in awkward gratitude at our fortune. More likely though, they jumped from some other more long term food stamp/state health plan /unemployment recipient's kid's head onto that of my beautifully innocent brown eyed seven-year-old.
My hopes are that by the time my daughter is old enough to understand the word "stigma" we will be looking back at this phase of our lives. We'll reflect back, "Geez, those were tight times, but now we're back to supporting ourselves and out of the system." Or "I'm sure grateful that we were able to tide over and things are better now." I look forward to stellar health insurance, an engaging career, stacking my husband's published books on our shelves, and the possibility of putting money away for our children's educations. I'll no longer joke about home colleging the kids and eventually we will return solidly to the middle class: educated, confident, and not asking the state for assistance. We will return to giving to food banks, supporting public radio, and having thoughtful conversations about which organizations we'd like to support.
In the back of my mind though, I'll wonder about the family that inadvertently shared the lice with us, and know that likely they're still needing help from the state, still having to stand in lines and submit paperwork that questions their honesty and integrity. I'll feel the guilty twinge from my regained place of financial security, the twinge that has and will again keep me awake in the middle of the night, wondering when I'll be found out for the needy person that I really still am.

Related Posts: