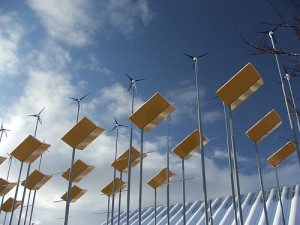 Oregon's new 'solar highway' project officially kicked off yesterday at the I-5/I205 interchange — yet another intersection between energy and transportation as the fields work toward sustainability (see Electric Vehicles).
Oregon Department of Transportation (ODOT) is partnering with Portland General Electric to install solar panels that will produce 104 kilowatts of energy — equivalent to 28% of what it takes to light the highway interchange. Solar World AG sourced the panels, while the inverter came from PV Powered Inc. SolarWay (actually four firms) is designing, constructing and installing the project.
I mention those companies because they are all Oregon companies and a make-or-break element of sustainability is economic transformation. Sustainability has to create new jobs, as in renewable energy, at the same time that it's (hopefully) ushering out jobs based on fossil fuels, i.e. coal and oil. Oregon lost many timber jobs when logging was sharply curtailed, and the rural counties especially are suffering badly. Solar energy and wind energy can quite possibly replace the economic prosperity lost, and even gain new ground.
Oregon's Governor Kulongoski is working for that economic transformation. He points out that the solar highway project was made possible largely by the state's business energy tax credit (BETC pronounced Betsy) for renewable energy projects. "Reducing our overall carbon footprint will define who we are as a people, as a state, and I believe . . . as a nation."
The photo above by Steve Roe is not of the solar highway (which involves PV panels only). But the marriage it depicts of wind turbines and solar panels in the same installation, against a dynamic sky, was way too romantic for me to pass up.