Even when we love our work, it can land us in places we wouldn't have chosen. I'm currently in a luxury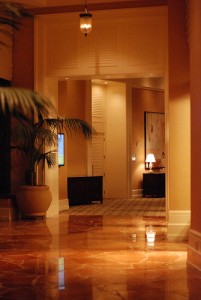 hotel, the Intercontinental Buckhead in Atlanta, Georgia, because that's where the transportation conference I'm attending is being held.
The overconsumption, the wasting of resources, is setting my nerves on edge. It feels plain wrong to me, out of balance with the natural order.  This hotel doesn't even have the little sign where you can opt out of daily towel replacement. And they're giving me an entire new bar of individually wrapped soap after I use my bar one time! Crazy.
So, being me, I did something today. I wrote the maid a note and put it carefully over the soap-dish in  my oversized bathroom: "Please let me keep using this bar of soap. Thanks, Alison." Then I made my oversized bed and wrote a larger note (the better to be noticed in the vast space): "I like these sheets fine, so please let me keep using them until I leave. It wastes energy to change them. Thanks, Alison."
I considered leaving another note asking for CFL light bulbs to replace the wasteful incandescents, but I thought a third note might be over-the-top in my own right. (Patience, Alison.) I came back to the room before lunch, chatting on the phone with my husband. The poor man heard me roar when I walked into the bathroom. "I asked her to let me keep using my bar of soap, but what does she do? She takes my bar of soap and leaves me not one but two new bars of soap! This wastefulness is driving me f—ing apesh-t!" (I'm sorry you had to hear that. I only look ladylike in those pictures you see.)
I walked into my oversized room to scan my oversized bed. The maid had remade my bed in a whole new way — no turn-down this time. Then I remembered the hotel website had named about nine different languages spoken by hotel staff.  A light bulb went on in my head (definitely a CFL).
"Oh honey, I think she doesn't know how to read English," I said slowly. "She was just trying to guess what I was wanting in my notes."  "Ah-h-h," he concurred. "Oh, bless her heart," I sighed, seeing the completely good intentions of the person cleaning my room.
My husband burst out laughing. "You went from yelling and cursing to blessing her heart in the space of 30 seconds," he said. "It's all part of the passionate nature that you love," I told him. I've called the front desk and politely asked for no more soap or sheet changes. Christina politely said she'd make a note of that. But I can see I have a long ways to go in getting people's buy-in to the diamond-cut life.

photo of Intercontinental Buckhead, courtesy of hyku