How do we deal with aging, with our changing (as in diminishing) appearance, with candid children asking if we're someone's grandma, as happened to me the other week?
With passionate resistance, if the $80 billion/year industry of anti-aging products is any indication. I made my panicked contribution to that industry the other week, right after the little girl on the playground let me know how old I looked (I'm 52, since we're being candid). I spent an obscene amount of money at Nordstrom's on (allegedly) anti-aging skin-care products by La Prairie.
But I know there's a better path than costly, desperate resistance to aging. This post is about my working to find that path.
I knew even as I did it that the purchase was outside of my values — the premise of Diamond-Cut Life is more joy and less stuff. A few days later I heard the Dalai Lama speak about how our focus is better put on our relationships, our real source of happiness, than on buying more things, which is the exact thing I've been saying here since 2007.
And which I'd forgotten so quickly in a moment of crushed vanity, and fear of aging.
Speaking of relationships! Linda Kusse-Wolfe, my close friend since 1980 and also my former minister, wrote to me about that post. She wrote about her friend Linda Brindle who was dying of ovarian cancer, who doesn't get to have the privilege of aging. She suggested that I embrace the gift of growing older.
Her gentle admonishment stopped me in my tracks, as dead-on advice can often do. I've been wringing my hands over what is actually a privilege, something a great many dying people would love to experience.  I want to hold up Linda Brindle here, a wonderful minister herself who died too young, two days ago. One part of her considerable legacy is giving me new gratitude that I get to age.
So, what did I do with the extremely expensive anti-aging skin care products I'd bought?  Last Tuesday I returned them to Nordstrom's, whose customer service is legendary. The sales manager delegated my return to her sales associate by saying, "Would you please help this young lady with her return?" The unreformed part of me wanted to say, "Um, could you please train all children everywhere to talk like that?" We can see that my acceptance of aging will be a process. 
What am I doing with the money I'd been so willing to spend on the fruitless pursuit of not visibly aging? Yesterday I started a monthly donation program to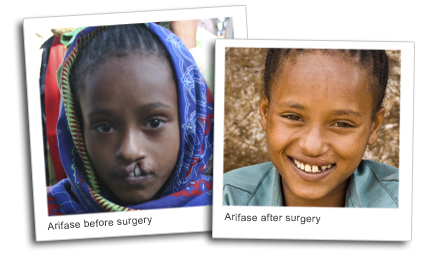 Operation Smile, which performs free surgeries to children born with cleft palates in developing countries. People with cleft palates tend to be shamed and isolated, evidently in almost every culture. It's funny how we can't get away from the fact that appearance makes a big difference in human lives. Clearly, it's much more important for children like Arifase, pictured here, to have a blessedly normal life, than it is for me to have fancy face products that cannot forestall the inevitable.
And maybe I should leave it at that. But there's another wrinkle, no joke intended. Ageism, i.e. discrimination against older people, is a reality. Many employers don't want to hire senior citizens. Older people often become invisible and ignored in social settings. Look at the emotional suffering that causes — to a large portion of the population.
And the ugly fact is that many aging women do get rejected by husbands who choose younger, prettier women to replace them. That happened just two months ago to my coworker Beverly (not her real name). Bev is one of the kindest, gentlest people I've ever known. She feels devastated by the dissolution of her 20 year marriage to a man who had been a loyal, trustworthy husband — until he left her. We can't pretend it's only certain people, only bad people, who find youth more attractive than age. It's deeply ingrained in us.  Even though it shouldn't, appearance does affect how well we're treated, and the number and quality of our life-opportunities. Arifase, Beverly, and lots of research on youth and attractiveness all attest to that.
That said, our personal capital lies primarily in how we treat each other, and how well we use whatever resources we've got. Are we stewarding the earth's finite resources with care? When we have abundance, are we sharing with those who have less? Are we treating each other with kindness and compassion?
If we're fortunate enough to grow old, being able to answer 'yes' to those questions means we've kept our eyes on the prize . . . the prize of the diamond-cut life I keep working to craft. Like many people of many different faiths, I pray daily. A new thing to pray for is gratitude for my age, as per Linda Brindle's legacy . . .  plus maybe some spunky comebacks to questions like, "Are you someone's grandma?"
I'd love to hear from my readers: what helps you to deal well with aging? Comments here.