Are you feeling at all hectic or pressured as Christmas approaches? As if the holiday season is so fast-paced and demanding you'd maybe rather skip all this?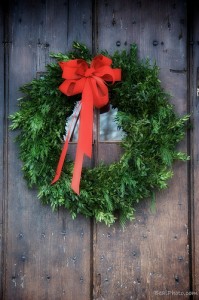 Let me tell you the story behind Christmas wreaths, the kind I have on my front door. It's actually the only Christmas decoration we have. (And I don't feel hectic or pressured. At least not today).
As I understand it, back in the olden days, the agrarian days, when people got around in wagons pulled by horses and oxen, the snow by mid-December was so deep, you gave up on going places. There were no fossil-fuel-powered snow plows, after all, to clear the roads and facilitate frenzied Christmas shopping and other fancy pursuits.
So, with your wagon temporarily decommissioned, you would take a wheel off of it, decorate it with some of the abundant evergreen flora growing near your house, and hang it on your front door. The wreath (an off-duty wagon wheel) was a symbol you had settled in for the winter. During your spring, summer and autumn you had grown, harvested, stored and preserved the food you would need for the cold months. Now you could rest, and, I assume, entertain yourselves with things like singing, storytelling and dancing.
I'm not suggesting we can go back to horse-drawn wagons. But we can definitely slow down if we choose, and, for example, decouple Christmas from spending. And we can keep in mind that experiences make us happier than things.
Next post: one of the few Christmas gifts you'll ever see me recommend. Cuddly, snuggly and agrarian-based — with no animals killed in the making of them.
photo courtesy of Andy-Beal

Related Posts: