Today's post is a guest column from Frank Marquardt, author of  The Solar Job Guide.

The solar industry could create as many as 110,000 jobs over the next two years as a result of stimulus spending, according to the American Solar Energy Society. Now a new book, The Solar Job Guide, tells you how you can break into an industry that's poised to regain momentum over the next six months. (Hint: discount code is available near bottom of this post.)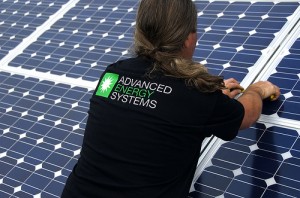 But this isn't a post about The Solar Job Guide, not really. It's a post about how I came to write it.
* * *  *  *  *  *
The trajectory of a career can be carefully managed or made by coincidence. Mine, like most peoples, falls somewhere in the middle.
I've always wanted to write for a career, and I do, but I never imagined that I'd become an expert on the subject of careers, which happened sometime between 1997 and 2000, when I became managing editor of a web publishing startup called WetFeet.
After leaving WetFeet my interests shifted to sustainability. I was writing an article about training first-time managers for a now defunct business magazine, and interviewed the principals of a small consulting firm for the article. They were fellow Reed College alumni (callout to job seekers: the importance of networks, alumni and other, to one's career trajectory should not be underestimated) and one thing led to another: They asked me to write a white paper on the future of business, one that considered what a business would look like if it was a place we'd all want our children to work. They gave me a stack of books to read on human-centered management practice and business strategy. And they gave me Paul Hawken's The Ecology of Commerce.
Reading Hawken was an arrow through the chest moment. His vision connected with my own nascent values and worldview, and I started seeking out clients who were working in the area of sustainability. I wrote case studies and brochures for The Natural Step (when it had an office in San Francisco), parts of a business plan for a startup with a stakeholder engagement product, and helped with research and thinking for a symposium that eventually became the Pachamama Alliance's Awakening the Dreamer course.
I aspired to something more, however, and still do—a book that is a vehicle for a deeper expression I'm seeking to make in my life. But I can't deny the satisfaction of working with organizations doing world-changing work.
My freelance career eventually led to a two-year gig at SustainLane, an online green community site, but I left that almost two years ago, with vague plans but a calling for something. I started consulting on corporate content strategy projects, but on the side I kept writing—an article about Gray's Harbor Paper, a wonderful sustainable-minded paper company in Grays Harbor, Washington; a book on Green Careers for WetFeet, which has been an ongoing client; and a short-lived, largely unattended blog, now hidden from public view, but which led to my acquaintance with Alison Wiley at Diamond-Cut Life.
Somewhere in there, I dreamed up the idea of taking my experience writing about careers and combining it with my interest in building a sustainable economy, and started researching an industry that I think will play a significant role in that shift: solar. And this week I put out The Solar Job Guide, a career guide designed to help people understand the industry and how to break into it.
I could go into details about why solar's a great place to work (for certain people), and the different opportunities (from creating chips to financing projects to installing panels), but I'll save those of you not interested in a solar career the tedium and (warning: shameless promotional plug coming) incent those of you who are hoping to work in solar with a promo code, so that you can help fund this little adventure. Go to The Solar Job Guide and use promo code "sunbathe" to save 20%. After all, that's why I wrote this post: to promote my new book.
But I also wrote this to celebrate the unexpected twists and turns of the career path through a meditation on my own, one I'm still very much in the process of making and that is being made by the serendipity and planned coincidence of a process that's bigger than I am and, no doubt, wiser, too.
photo courtesy of OregonDOT.
Related Posts: