Like many people, I have lots to do. And I love to get a lot done.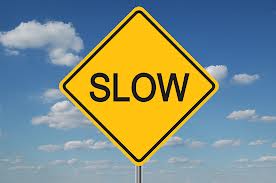 So I tend to rush. Which often,  just slows me down.
For example, it takes me forever to get dressed in the morning when I've done a hurried, harum-skarum job of putting my clothes away for the past month.
I can't convince my husband of my new idea when I'm rushing him to accept it, instead of slowing down and listening to his concerns about it.
And I can't find that crucial email when I've been rushing through my inbox for a week, failing to file priority items in the folders where I can later find them.
I'm only "efficient" when I've invested time beforehand in culling and ordering my clothes and my inbox, and making my husband's thoughts and feelings as important as my own.
It's when I've slowed down enough to create order and to be kind that I am then able to go fast.
And the only reason I need to go fast is to have more time for the things that really matter. Things like the people I love, spending time in nature, and doing work that makes a difference. Including writing Diamond-Cut Life.