This is a guest post from Diamond-Cut Life reader Brittany Lyons. Brittany aspires to be a psychology professor, but decided to take some time off from grad school to help people learn to navigate the academic lifestyle. She lives in Spokane, Washington, where she reads science fiction and walks her dog.
How much coffee does your household or office drink each day? Do you have an idea of the people who grow it, and how coffee farming affects their land as they work to make a living?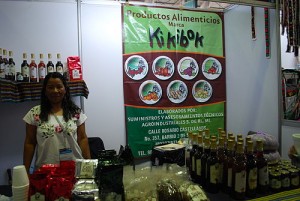 The average person in the U.S. drinks approximately 3.1 cups of coffee a day, according to the National Coffee Association. We are a nation fueled by coffee, with everyone from businessmen and busy moms to online PhD students needing that caffeine fix. America's coffee comes from more than 50 different countries. But it's the coffee growers in Chiapas, Mexico that make world headlines for their coffee's award-winning flavor, as well as their organic and sustainable growing practices.
Chiapas, Mexico is the home of hundreds of thousands of Chiapanecos, many of whom support their families by growing coffee in an organic and sustainable way. Their traditional cultivation methods, used for generations, are among the most sustainable growing practices in the world. Furthermore, they use coffee cooperatives, which consist of hundreds of growers who each contribute a portion of their crop to the cooperative. In return, the growers are rewarded with a fair price, or fair trade for the coffee. Coffee cooperatives then ship the coffee worldwide to international buyers who specialize in the sale of fair trade coffee.
The Chiapanecos practice "shade growing," growing coffee beneath the shade canopy of large trees in the highlands of Chiapas. They divide crops into plots of land called "milpas," which they rotate throughout the seasons. These several acre parcels are interspersed with untouched portions of native landscape, and also feature other crops, such as beans or corn. The beans and corn sustain and feed the farmers' families, while selling the coffee. Every so often, the crops get switched around, to avoid putting too much pressure on any one area. The farmers also utilize the land around the crops; the surrounding trees help prevent erosion during heavy rains, and provide medicine, as well as firewood and even fruit.
Shade growing lets the Chiapas people keep their forests intact, which contributes to sustainability. Most coffee operations simply level trees and forests to make room for high-production coffee fields, creating row upon row of coffee in an industrial setting. Tree removal seriously impacts the environment, especially by reducing biodiversity. But the Chiapas farmers' shade-grown coffee protects and helps the environment. For example, shade tree farms support native bee populations.  Bees are essential to pollinating the millions of plants, including the coffee plants, which helps protect genetic diversity. This diversity helps plants resist disease and other genetic problems. Shade growing also provides the necessary habitats that let native birds, rodents, reptiles and other creatures thrive.
Growing coffee in the shade creates the benefit of carbon storage, also known as carbon sequestration. The industrialized world constantly produces carbon dioxide (CO2), nitrous oxide (N2O), and methane (CH4), more commonly called "greenhouse gasses." These gasses get trapped in the atmosphere, contributing to global warming. The trees that remain during shade coffee farming help remove carbon dioxide from the air, and reduce the production of nitrous oxide and methane. More industrialized coffee farming methods remove trees from coffee fields, reducing their capacity to remove greenhouse gases. Then, they go on to increase the production of these gasses through their processing methods.
While the cultivation methods of the Chiapas people help reduce the impacts of coffee farming on global warming, conventional farms and industrial operations increase these negative effects. Unfortunately, the increase in temperatures caused by greenhouse gasses directly impacts coffee production. Chiapa farmers depend on specific temperatures each year to grow their coffee. Higher temperatures from global warming can result in smaller crops and less money for farmers, while temperature-related changes in precipitation also lowers crop yields. Warm air holds greater moisture, which means heavier rainfall in the rainy season, more flooding and destructive erosion in coffee fields. Plus, warmer temperatures during the dry season means faster evaporation, hence greater risk of drought.
What can we do when we are so far away from the Chiapas people, as they struggle to make a living? First, you can protect the environment and help to slow global warming by recycling and reducing your energy use.
Second, purchase fair trade coffee. Coffee brands marked "fair trade" mean that farmers are generally paid a higher price for their coffee than market value, in return for taking part in organic cooperatives instead of industrial farming. Find fair trade coffee in specialty stores, coffee shops, and even grocery stores (Trader Joe's, for example). Some fair trade organizations even have cell phone apps, which can help you find stores that carry fair trade coffee products like those produced in Chiapas.
Finally, even if you don't drink coffee, you can help farmers by donating directly to fair trade organizations like Fair Trade USA.
These small changes in your lifestyle may seem insignificant on their own, but they create big results as many people take them. Start making a difference. Take steps to support the environment through sustainable operations, whether it's purchasing organic vegetables from a farmer in your home town, or organic coffee from a farmer across the world.

Related Posts: