by Alison Wiley
My diamond-cut household's monthly electricity use is about half the national average. Besides saving more than $450/year, we're lowering our carbon footprint because even here in Oregon, coal-burning fuels about 36% of our electricity. And our house is happy, not deprived (diamond-cut = chiseling our consumption down to the core of happiness).
Work first on your usage of everything involved in heating and cooling, since that's where the bulk of energy gets used. In rough order of importance, starting with the most powerful changes: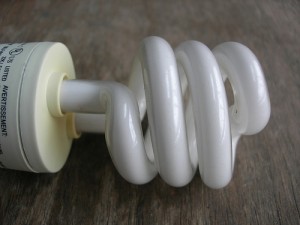 Keep the refrigerator and freezer well-sealed, closed as much as possible - and full. Put bottles of water in any empty nooks. They act like batteries helping to preserve the temperature.
Adjust the thermostat in your electric water heater downward. Scalding-hot water wastes energy and is also dangerous.
Put aerators on your shower-heads and faucets. These wonderful, inexpensive gizmos conserve hot water beautifully.
Wash clothes in cold water, and only wash full loads.
Use a clothesline (indoor or outdoor) instead of the dryer. Dryers are energy hogs. Our clothesline is in the basement. Hanging things up takes a bit more time, but in effect you're getting paid for your time. Also, you've got 168 hours every week.
If you replace your old refrigerator with an Energy Star model, get rid of the old one. Don't just relocate it into your basement or garage to store beer, etc. – a second refrigerator increases your energy use dramaticallly, despite one being Energy Star.
Replace your incandescent (conventional) light-bulbs with compact fluorescents (CFL's, the coiled type pictured above). CFL's use 75% less energy. You can get used to their taking a few seconds to reach full brightness.
If a big-screen TV is important to you, choose an LCD instead of plasma. LCD uses half the energy. (We have a normal TV in the basement that gets no channels – we just rent movies occasionally. OK, call us weird.)
Use the microwave for anything that will fit into it instead of the conventional oven.
Unplug things after using them, i.e. coffee-maker, stereo, space-heater, TV, cell-phone and IPod chargers. Those tiny glowing lights signify an energy-sucking vampire load. Power-strips make this habit easier.
More resources: Lower My Electricity Bill;

Top Ten Tips For Saving Energy
photo courtesy of Dano
Related Posts: