In our lifetimes we will spend tens, possibly hundreds of thousands of dollars on energy bills*. Reducing the size of those bills helps all of us, especially since burning the fossil fuels to create that energy is heating our planet dangerously.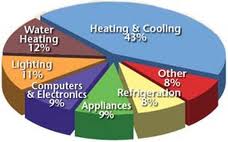 So, haven't we all been taught to turn off the lights when we're not in a room? Doing this helps us to master our energy bills, right? Sorry, but not really. See the graph: changing the temperature of our homes consumes the lion's share of our energy expenses. Turning off lights to save energy and money while heating our homes to 70 degrees in the winter is like picking grains of salt up off the table while tossing a cupful of the stuff out the window. Much more powerful is changing our attitudes and habits about warmth, for both personal and planetary well-being. I'm writing this post for people of all income levels, and I'm suggesting we have a goal of resiliency, beyond a goal of saving money. Resiliency means we can weather volatile energy prices, job loss, natural disasters, extreme weather and power outages without coming undone. To me, it also means having some capacity to take care of each other, including the most vulnerable.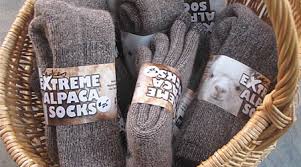 Dressing for winter. If we dress warmly indoors, we can thrive on lower indoor temperatures and spend much less on heat. I drafted this post over three days this past week in a hotel room in North Bend, Oregon. The outdoor temperature ranged from 37 to 48 degrees, but I didn't turn on my room's heater once. I wore layers and my alpaca wool socks, including to bed (the socks came off during the night, I baked so nicely under my blankets). Don't congratulate me too quickly; I was on the third floor and benefitting from the fact that heat rises, even through floors. Still, not opening that little beige box and not turning that chocolate-colored dial to the right when I felt chilly took a change of attitude on my part. Here's what helped: I felt a quiet pep talk coming from the legions of my European ancestors who lived and even thrived in sub-freezing temperatures (there were several Ica Ages) without the option of the chocolate-colored heating dial. Tolerating cold is in my DNA. And I'm not special. Tolerating heat and cold is in all of our DNA, given that central heating and cooling have only existed for about sixty years, and humans have existed for more than 200,000 years. 
Movement. When we move, we warm ourselves. If we're both cold and awake, we need to do something, something that isn't sedentary. Shoveling snow warms a person quickly, as does vacuuming, sweeping or cleaning floors, and making trips up and down stairs. Warming ourselves via physical activity rather than fossil fuels also helps counter our national obesity epidemic. Spending whole winter days in front of computer and TV screens weakens our bodies, i.e. both our muscle tone and our ability to tolerate natural temperatures. That's not thriving. Staying warm by being active is thriving. 
Body heat. Sharing body heat, especially in bed at night, is the most powerful single way to stay warm. It's also the least costly, as in zero cost. If you have a dog or cat, you already know about their instinct to benefit from your body heat. You and the animal share both warmth and companionship. Our current culture has the strange notion that humans sharing a bed has got to be about sex. From the perspective of human history, this is completely inaccurate. Children, families, friends, etc. have slept in the same bed throughout the ages in order to stay warm. To see this as taboo would make us quite unresilient.
The occasional news stories we read of people dying in their homes from the cold are usually about people who were, unfortunately, living in isolation. Living in isolation is also new in human history, and makes people, especially older people, much more vulnerable to cold than they would otherwise be. Very few of us are ever in danger of expiring from being cold.
More low- to zero-cost strategies. A hot mug of coffee, tea or even plain water held in both hands is very warming and comforting. A brick or a cloth bag of rice (or almost any uncooked grain), heated, warms our bodies or our beds just like a hot water bottle. Freshly baked potatoes wrapped in aluminum foil can do the same. Stepping into a library, community center or other public, heated place is always an option. I realize that advice may sound strange to middle-class people. But keep in mind that many middle-class people lost their jobs and the homes they owned in the recession of the past years. Resiliency means being able to deal with just about anything. 
If pressed, choose food over heating. A great many people, including in the U.S., find themselves having to choose at some point whether to buy food or home heating. Food should be the top priority. Food is our core life-giving fuel. It fuels our ability to warm ourselves, to think straight, and to take care of each other the way . While an unheated home is uncomfortable, we are not going to die from being cold, except in cases of already being frail, or extremely low temperatures. 
I'll be transparent: I want very much for my culture to get smarter about energy use and dealing with winter cold. Climate change is already upon us, and we have to adapt to it with greater resiliency in any event, even as we also work toward higher-level policy solutions. Please share this post with a family member, friend or colleague — whatever your income level is. Well-off people who may shrug at energy bills rarely consider their need to build physical resiliency, and dollar-poor people rarely receive good information about controlling their energy costs. Information of this type can reduce human suffering, both in the short term and the long term. If we're addicted to living at 70 degrees, we're likely to respond to any interruption in fossil fuel supplies with poor choices. (Cutting down and burning all the trees within walking distance to stay warm for a few weeks, for example, would be a poor choice.)
Over to you: what do you think about changing your own attitude and habits toward winter cold and staying warm? Which feels more motivating to you: reducing your energy bills, or building your resiliency?
Next Sunday's post (I'm posting once a week now) is in response to most of my survey-takers stating they want suggestions of good books to read. I'm going to review and recommend a great novel, and also an excellent non-fiction book by innovative writer/thinker/doer Sharon Astyck.
* Based on average annual U.S. electricity bills of $1,419 and only 55 years of paying those bills, we're paying $78,045 in our lifetimes for electricity alone. Of course, energy bills also include natural gas bills, because many households are heated by natural gas. While gas is currently cheap due to the new, environmentally dubious practice of fracking, energy costs in general have been volatile for years and will probably remain volatile. 

Related Posts: