I love the written word, as you probably know. (And did you know I'm giving away a copy of my novel, Revelle? You can enter the drawing by subscribing to my weekly blog posts, to you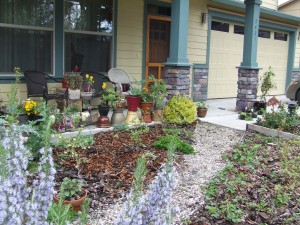 r right. Easy to unsubscribe with a click any time).
But this week's post is a nod to the fact that sometimes visuals — photos — are worth more than words.  Like millions of people the world over right now, I've been planting my spring garden. I feel excited, almost feverish, when I create gardens, and then watch them change and grow on a daily basis. Especially when it's blossoms that will eventually become strawberries, apples, pears and blueberries.
All of this relates to the everyday miracle of transformation that I wrote about last week. It also relates to community — I have a new gardening partner who is working in exchange for rent. Just yesterday Dan moved in to our guest bedroom. He's an outgoing fellow who grew up on a farm and loves to grow things about as much as I do. My husband Thor is the passionate cook of our home. In months to come he'll be making savory meals from the kale, spinach, leeks, green beans, tomatoes, onions and more that we're planting.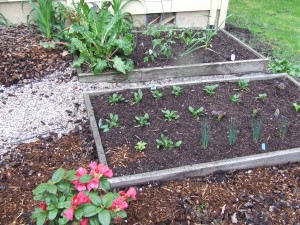 More joy and less stuff (the theme of Diamond-Cut Life) means creating things ourselves, rather than seeing ourselves primarily as consumers. All of us are creative, in different ways. What is your favorite thing to grow and nurture and develop, whether it's food, flowers, children, music, art, ideas, relationships, or . . . ?