It's Election Day! I urge you to vote, if you haven't already, because democracy only works with participation. It's not a spectator sport. (Note: I'm replacing my usual Thursday post with this Tuesday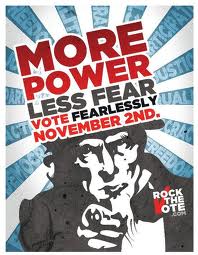 post, and resuming my usual Sunday/Thursday schedule this Sunday).
It is so important to vote. My household voted by mail three weeks ago. I don't even care who you vote for, as long as you're participating in democracy. Well OK, I did make a recommendation for Portland mayor. But I'm not urging you to vote for a particular presidential candidate, because the principles of this blog — putting people, nature and God ahead of materialism - aren't red or blue per se. The diamond-cut life is about owning our power and making conscious, mindful choices. Our choices can create integrity, quality of life and a sustainable future. Owning our political power by voting is a part of those good things.
 Many millions in the world do not get to elect their leadership. Some, like our sweet house-guest from Iraq who stayed with us last summer, get to vote, but for only one possible candidate, a tyrannical dictator who can easily punish those who fail to vote for him. She felt it fortunate she had been too young to vote when Saddam Hussein was in power, because she would have resisted voting for him.
A practical, self-interested reason to vote is that once you vote, you generally are removed from the call-lists of the organizations that call you, urging and reminding you to vote. (While the secret ballot is central to democracy in the U.S., the secrecy is about how we vote, i.e. the content of our ballot. Whether or not we voted in any given election is actually a matter of public record.)  
Democracy isn't something we consume, like a restaurant meal put in front of us. It's more like a dinner at our  own kitchen table, created by our own efforts. If you haven't already voted, please do whatever it takes to get out there and vote today. My father John Wiley, 89 years old, can walk only with tremendous effort. He moves so slowly it's painful to watch him, yet he doesn't complain. He is going out and voting today. You can do it, too,
Finally, I know that the graphic above says November 2nd, when today is November 6th. I'm using it anyway because it illustrates that voting equals stepping into our power. We have power both as individuals, and as parts of a greater whole,  whether that greater whole is a city, county, state or nation. Democracy isn't a spectator sport. Step into your power and be sure to vote. And after the election is over, the work of being a citizen goes on, no matter who wins.
Finally

Related Posts: