I've been writing Diamond-Cut Life for almost five years now from my conviction that happiness and integrity come not from material wealth, but from things better than that. Things like people we love, and nature, and work we love doing, and God (a word that works that me, though not for everyone). We can chisel excess stuff away from our lives to make them shine, the way that diamonds get chiseled out of lots of surrounding rock to reveal their perfection.
Devouring good books has been part of my diamond-cut life since I was a little  kid, way before I had the above words to describe what was triggering my flights of joy. Today I'm posting on my two latest additions to my Books I Love page. The first book focuses on outdoor life and our interior mental maps, and the second book describes a remarkable man's success in living off of the conventional financial grid.
Deep Survival by Laurence Gonzales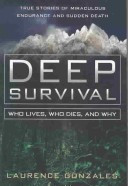 Mr. Gonzales pulls off the rare feat of making his personal passion relevant to everyone, by pulling it up to the higher level of universal truths. His passion  is flying (he's a pilot) and extreme sports. While I don't share those exact passions, I treasure his book because it's full of uncommon insights about how to deal with adversity in general. He's done extensive research and interviews with people who survived disastrous trips of all kinds, and chiseled their habits and experiences down into discernible techniques.  My favorite Gonzales insight is: Keep your mental map updated. This means whether we're on a Himalayan mountain or in a horrendously stressful job situation, we've got to accurately read and respond to what is truly happening, as the situation changes  — not what we wish was happening. The people who are alert, realistic and steadily practice this discipline survive when others don't. Even when our survival is not literally threatened, we can use these techniques to thrive and to make better contributions, wherever we are.
The Man Who Quit Money by Mark Sundeen
At the beginning of this century a gentle man named Daniel Suelo exited from the financial grid. Since 2000 he has not spent, earned or received a single dollar — yet he feeds himself well, does quite a bit of productive work, and has a warm friendship circle and active social life that many would envy. Mr. Sundeen explores Daniel's family, work and spiritual history and the many small turning-points that led to his remarkable path. Readers are left realizing that while we may not be up for quitting money ourselves, we all have a much greater range of choice in how we earn, spend and consume than we have been seeing. For that reason, this book widens our world. Daniel Suelo is a writer, himself, who has developed his own body of thought and a popular following at his blogsite Zero Currency.
photo courtesy of Jeff McNeill