Today's post is a  follow-up to my fifth most-read post, The Poverty of Hyperindividualism. Incidentally, this autumn marks the fifth anniversary of Diamond-Cut Life! Many thanks to my readers who have posted more than 750 comments on 490 posts, and made my writing a rich, joyful thing. If you subscribe (to your right) you might win the drawing I'm doing this weekend for an excellent hardcover book, an Oprah pick, Wild.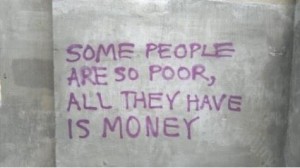 My 2009 post on the poverty of hyperindividualism was about a man, Brad (not his real name), who was a lively, engaged member of my social circle during high school and college. We were good friends. Then he changed over the years. He started putting lots of energy into surfaces, i.e. costly clothes, salon hair, the latest electronics and very large trucks that he enthusiastically replaced every year or two with the latest model. I heard from him less and less, and when I initiated contact, Brad clearly wasn't very happy, though his income kept going up.
I would express interest in Brad's life, but he rarely asked about mine. He was self-focused,  individualistic. Voting was a low priority for him, and he had no church involvement or volunteer projects. He sometimes said and did things I found hurtful, but  declined to apologize or even discuss it if I brought it up. Brad loved children but never married or had children. 54 now, he's rarely had a girlfriend, and his longest relationship lasted six months.
Last year he was so insensitive to me around the death of my mother that after praying and thinking it over for a few months, I wrote Brad a letter stating I was ending the friendship. I've felt peace with that decision, and have steadily prayed for his happiness.
I see Brad as being rich yet poor. There are many Brads in the world, maybe especially in the U.S., people who put possessions ahead of people, often without even knowing they're doing that. Robert Bly writes of a tendency in our culture to treat things as if they are people, and people as if they are things. Do you know anyone like that?
The research on happiness shows that once people reach financial security, more income typically doesn't bring more fulfillment.
Here are the things that research indicates do enhance happiness:
reducing our commutes, even if it means having a smaller house
increasing or nurturing the quality and quantity of our relationships (quite different from hyperindividualism)
immersing ourselves in projects that challenge us but are matched to our abilities (similar to right livelihood)
taking pleasure in making progress toward our goals, rather than assuming the final achieving of them will make us happy
I keep noticing, in both my blogging and my earth-walk, that the things that sustain human happiness are often the same things that sustain the earth. Less greed, less stuff. More heart, more community. The diamond-cut life.
painting courtesy of baby.walrus, who attributes the quote to Maureen Gill

Related Posts: