In the diamond-cut spirit of less often being more, I've decided for 2013 to move to one weekly post, on Sundays. I need to free up some time to put both this blog and my novel out into the world more, hopefully including an improved website design. And, one of my new year's resolutions is to be more focused. Writing about one topic per week rather than two, as I've been doing, is one way to do that. 
Speaking of focus, the survey that many readers recently took gave me feedback on what they'd like to read about at Diamond-Cut Life. (Note: I drew the gift card winner last week). Of one menu I presented of eight topics, here are the three most popular, with 92% of survey-takers indicating possible or definite interest:
Tips on conserving energy

Humorous/lively stories of green living, or living in general

Suggestions of good books to read  (check out Books I Love, organized by category) which I will add to every month this year) 
81% of readers reported possible or definite interest in dealing constructively with global warming, which is good, because I consider that the most important topic for me to keep writing about (though probably the most difficult for me, too).
When asked about memorable posts, more than one reader called out the post on climbing Mount St Helens as their favorite. Since climbing that mountain was my second favorite accomplishment of 2012 (first was finishing my novel Revelle), I'm sharing the photo again. My friend Colleen is on the left. She's 13 years younger than me and I keep up with her just fine when we climb mountains. Not that I'm competitive. At. All. We both refer to the African proverb when we talk about that muscle-busting climb: If you want to go fast, go alone. If you want to go far, go together.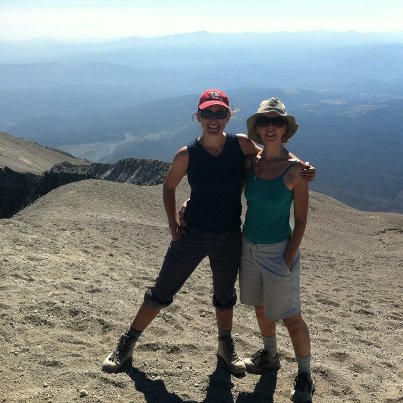 "I like your stories about lifestyle choices you have made, that honestly include the difficulty or tradeoffs, or considerations that go into those choices.   I like constructive ways to realistically live from my values. . . . Your blog informs me of how I can make a difference . . . That is especially why I read your blog."
"I really like hearing stories from everyday life that I can relate to."
 "I like your personally engaged take on issues that are important to me."
Sheryl liked hearing about Halloween treats-passing out quarters rather than candy.
Not everybody likes my take on the world. One person wrote that hearing me talk about God was "a huge turn-off". I love God, though. I can live with that not working for everybody.
"DCL is a positive blog about current things that everyday people experience."
"Excellent writing – leaving me wanting more." Jen likes DCL's "focus on simplicity and authenticity."
Mick wrote: "Loved your "pre packing" description/story with Thor. The heart/sincerity of small town article. Article that promoted voting in general, as opposed to promoting for a specific candidate.
Barbara said, "I love the personal stories. . .  I appreciate the way you avoid sounding "preachy" in general. You are strong and clear in your message, while allowing for others to hold different ideas and values.
"I love the section about how experiences rather than stuff make us happy, and decoupling xmas from spending."
Libby said, "So much passion in each post!"  Erin said that my blog "helps reaffirm things we value."
Nathan stated, "I've enjoyed the general optimism, emphasis on simplicity, and value placed on reaching out to people."  Another reader likes DCL's "focus on positive solutions instead of condemning what's 'wrong' with society."
A number of people whom I believe found me via Grist appreciated most the piece on breaking social rules during the holidays.
 Lisa wrote, "The writing is excellent and the posts are informative and thought-provoking. Just the right length too! I also love the Favorite Books page." Two readers named  tips on preparing for a power outage as a top choice, with one of those also saying she really liked the Patterson's Picks overview.
The comment that rang like a bell for me came from Heidi, who said, "Diamond-Cut Life is about how to live large with minimal environmental impact. She makes me feel like a green, feminine, post-modern version of Teddy Roosevelt, he of "speak softly and carry a big stick" fame. Wikipedia says that Roosevelt attributed that saying to a West African proverb: speak softly and carry a big stick; you will go far.
But the other African proverb speaks to me more, the one that tells us if we want to go far, we go together. True for climbing a mountain, and also for entering my sixth year of writing Diamond-Cut Life. This is my 517th post. My readers, my community of survey-takers, have supported me with positive, helpful feedback. My community is helping me to go far. Thanks and blessings to you.